PocketChem A1c is a fully automated analyzer utilizing boronate anity method for determination of HbA1c in human whole blood.
Advanced
Fast & accurate
result CV3%, in 4.5min.
User friendly
LCD touch screen Built-in thermal Printer
Easy to use
Single test cartridge containing synthetic materials
(Bead, Washing solution)
Simple test steps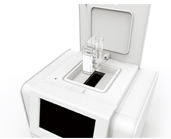 1. Set the cartridge.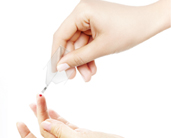 2. Apply the sample.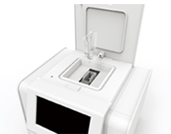 3. Set the sample and close the tray.
Specifications
Measured sample
Capillary whole blood/venous
Measurement principle
Boronate affinity
Measurement range
4.0~15.0%(20~140mmol/mol)
Required sample volume
3.5uL
Measurement time
4.5min
Operating condition
Temperature: 17~32℃
Humidity: 15~75% R.H.
Printer type
Internal printer
Shelf life
12 months(Reagent)10 cartridge/ box
Out put
USB port
Size
205w×200d×150h
Weight
1.6Kg
Option
External Barcode Reader(option)
Storage condition
2~30℃(Reagent)
*Design and specification may be changed without prior notice.