Unique Features
Manual Microscopy is the reference method (not flow cytometry) for urine sediment analysis - True automation of the "Gold Standard" manual microscopy.
Large (13.3') high resolution touch screen gives real view of microscopic images - Truly similar with HPF images of manual microscopy.
In-built high-definition CCD cameras will capture images and artificial intelligence (AI) will identify, count and tag all particles - Truly independent.
No need for repetition of sample with manual microscopy, which includes manual slide preparation - Truly fully automatic.
Cuvette is the only consumable, no need of additional reagents - Truly cost effective.
Manual Microscopy
Manual microscopy is a time-consuming process
- Approx. 10 - 12 minutes per sample
- Takes too much time of "highly qualified" lab personnel
- Sample preparation
- Slide preparation
- Slide viewing
Doubt in quality of reports
- Abnormal findings are always questionable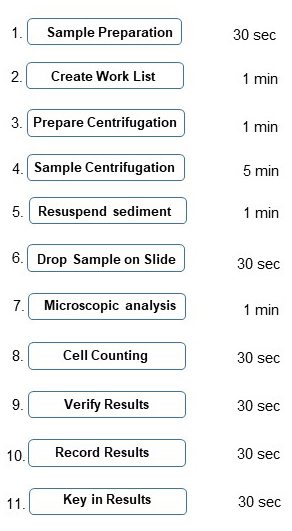 Automated Urine Microscopy
Automated microscopy saves time
- Approx. 1 ½ minutes per sample
Full traceability of results
- > 25000 images of patient's results can be stored & shared
- Possible to review and verify results
Standardized measurement process
- Process security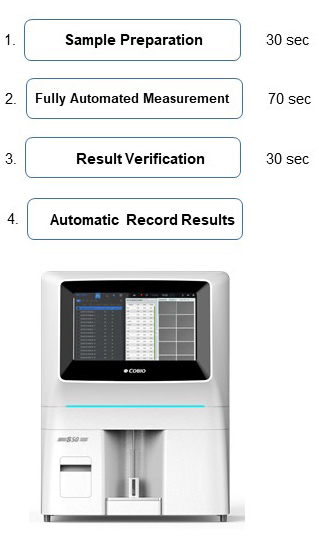 S50 - Simple to Run Samples
Fully auto measurement process
1. Put urine sample at sample holder
2. Click on start button
3. Results on the screen along with microscopic images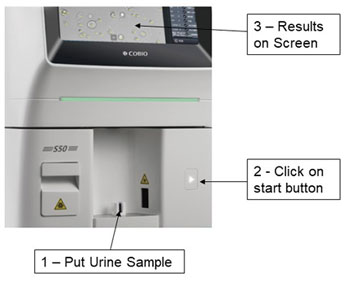 S50 - Instrument Measuring Sequence

Urine sample is homogenized in the test tube
Sample is aspirated from test tube and injected into disposable cuvette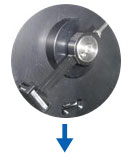 Centrifugation is performed to create a monolayer of particles at bottom of the cuvette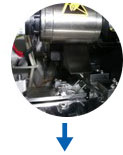 Images are taken by built-in CCD
AI (Computer Vision + Machine Learning) evaluation marks the particles and calculates results
Display results along with images

Used cuvette is placed into waste-bin
S50 - Instrument Measuring Sequence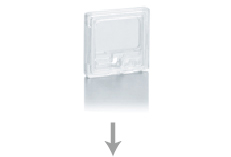 sample injection into cuvette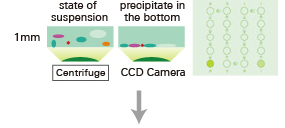 accelerated sedimentation, auto-focusing


Measurement Technology
Measurement (Fully Automatic)
- Sample preparation
- Sedimentation
- Microscopy : focusing, image capturing
Image Evaluation (Fully Automatic)
- Particle recognition
- Particle classification
- Particle labelling
Result Calculation (Fully Automatic)
- Summarizing the detected particles
- Unit conversion
- Semi-quantitative categorization
Measurement Technology - Sample Preparation
Put urine sample in to sample holder
- S50 is equipped with in-built barcode reader
- Bi-directional LIS / HIS
Stainless steel probe for transfer of urine
- Mix urine before aspiration
- Probe wash after each transfer of liquid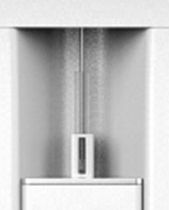 Measurement Technology - Patented Cuvette
Patented cuvette and distilled water are the only consumables
One sample, one cuvette
- Each sample is analyzed in a separate cuvette
- No carry over between samples

Measurement Technology - Sedimentation
Centrifugation is performed at an acceleration level of 260G
- Centrifugation @ 2000 RPM, for 10 seconds
- Create monolayer of particles at the bottom of the cuvette
- Drive all particles to the same level to achieve good focusing
- Better pictures based on good focusing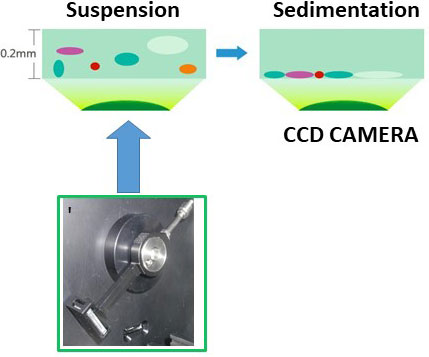 Measurement Technology - Microscopy
Microscope with CCD to create whole view field images
- Multiple digital images are taken by CCD
- Possible to chose 5, 10, 15 or 20 images per sample (default setting is 15)
- Images and results are displayed, rechecked as well as corrected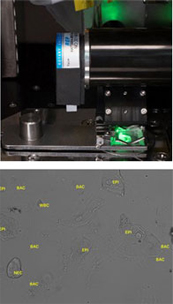 Measurement Technology - Artificial Intelligence
How Artificial Intelligence works in S50
- S50 works on deep learning algorithm
- Algorithm of S50 need 3000 marked pictures
- Take pictures of thousands of samples
- Marked the name of particle in picture by morphologist, i.e. RBC, WBC . . .
- Different cells have different physical properties
・ Shape, Size, Diameter & Thickness
- It takes these physical properties, models them, and trains them to forms algorithm of S50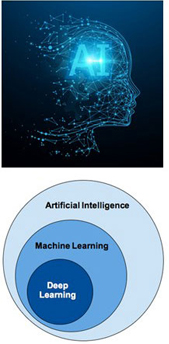 Result Display - Screen Shots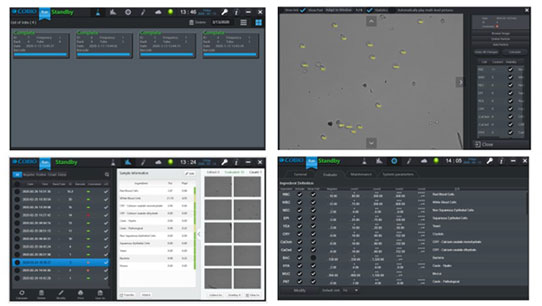 Report Printing
Automatic Label
RBC, WBC, HYA, PAT, EPI, NEC, BAC, YEA, CRY, CaOxm, CaOxd, MUC
Manual Label
Other particles visible in image can be marked manually
RBC subclasses
Separation of renal and superficial / deep transitional epithelial cells
Pathological cast subtypes
Additional crystal subtype categories (CaPh; CYS; LEU; Amorphous Crystals)
Spermatozoon
Lipids
Protozoa (Trichomonas Vaginalis, Balantidium Coli)
Parasites (Schistosoma Haematobium, Enterobius Vermicularis)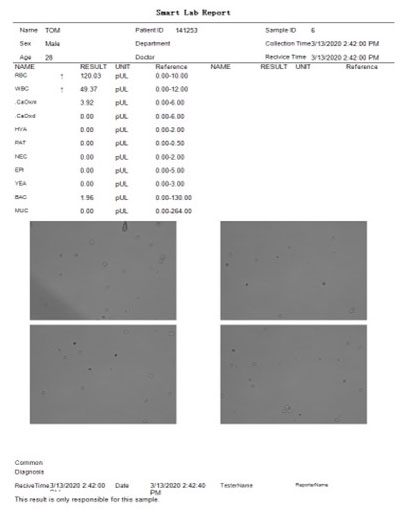 iCLINICAL Cloud Service
S50 instruments can be connected to its own cloud platform -- "iClinical.net"
A professional and technical service platform that provides medical practitioners
- Online training
- Online help
- Online sharing
- Knowledge management
- Access to historical data analysis and research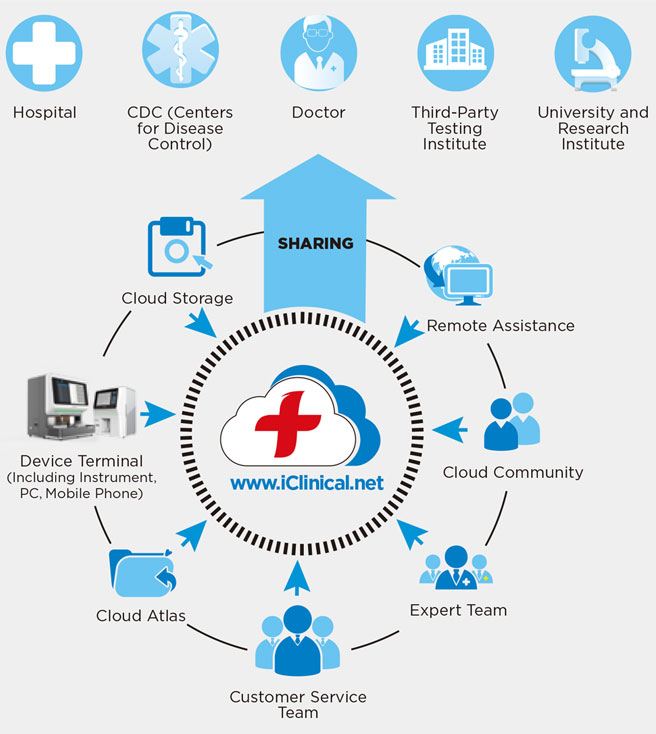 Test Performance Data
- Coincidence rate of identification (versus manual microscopy)
- Red Blood Cell ≥ 98%, White Blood Cell ≥ 96%, Tubular ≥ 72%
- The false negative rate of analyzer (versus manual microscopy) is zero
- When the cell concentration is 50 / uL, CV ≤ 18%
- When the cell concentration is 200 / uL, CV ≤ 11%
- CV of total cell count results is ≤ 14%
Test Performance Data
Carryover rate is zero
Background counting
- The analyzer's blank count for WBC and RBC is zero
Limit of Detection (compare to manual microscopy)
- S50 analyzer can detect RBC / WBC samples with concentration level of 5 / ul
S50 - Salient Features
High throughput - 50 sediment analysis per hour
Accurate and reliable results - Automation of gold standard method
Reduced workload - direct measurement
Standardized method - no influence of individual preparing slide or interpreting results
Traceable results - results and images can be reviewed again at any time
Automated result generation - transmission errors are avoided
Displaying of whole view field image in large 13.3' touch screen
No repetition of sample with manual microscopy
Only one consumable (cuvette) is needed