We guide you: Compare and confrm your findings with classified particles from our "Atlas image collection" library.
The new 'Atlas Image Collection' is included in the AUTION EYE software. Examples of all 12 categories can be displayed and compared to actual patient reports. Additionally, new, interesting images can be added to the collection allowing it to be used as a valuable training tool.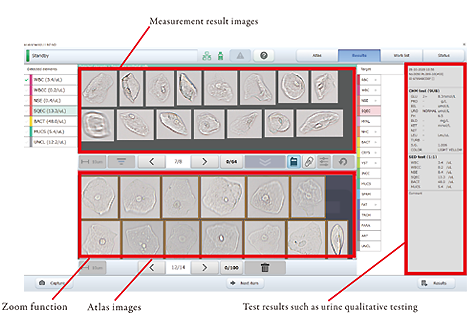 Easier Identification of Particle Images
Color images allow for improved visual checking of differences in urinary formed elements - assists in particle identification.
Also, the whole image view can show multiple particles within a single screen, allowing rapid assessment of particle frequency and size comparisons to be made.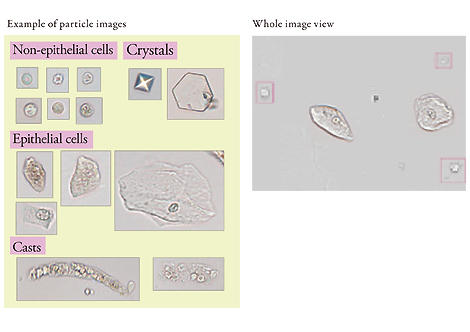 Cross-Check Function for Result Confirmation
Checks the reliability of measurement results by checking for deviations in measurement results between chemical tests and tangible component analysis items.
Improves reliability of results by comparing chemistry test results with sediment analysis.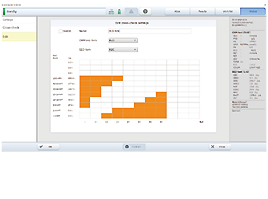 Automatic Dilution Function in AUTION EYE for improved Workflow
Autodilution of highly concentrated results is possible - reduces manual intervention.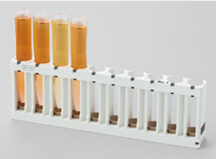 Smart transfer system allows for a compact footprint.
The AUTION EYE can be operated stand alone or connected to the AUTION MAX series - resulting in a very small footprint (1065 x 600mm).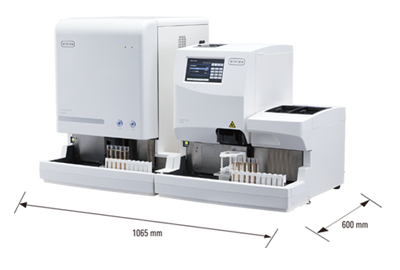 Connection of the AUTION MAX and AUTION EYE enables efficient urine sediment analysis via utilization of the qualitative urine chemistry test results.
Gating Function for Improved Workflow and Efficiency
Use of the gating function allows defined criteria to determine if urine samples should be run on both devices. User defined rules can also dictate if urine fomed element analysis should not be performed, based on the qualitative test result - even if this has previously been ordered.