Jan 11, 2017
- Rapid determination possible even with low viral load of early infection -
New release of influenza virus kit
ARKRAY, Inc. will release the influenza virus kit, SPOTCHEM FLORA FluAB, for sale to medical institutions throughout Japan today on Wednesday January 11, 2017 . With rapid and highly sensitive automatic determination possible even in the early stage of infection, the kit shall support influenza testing during the flu season.
The influenza virus spreads predominantly in the winter season of each year, and many people suffer from this acute viral infection. Serious cases of the illness carry the risk of pneumonia in the elderly, and may cause complications of encephalitis and encephalopathy in small children. To prevent increased severity of infection, complications and secondary infections, early diagnosis and treatment at the medical facility must be commenced at an early stage and there have been higher needs for rapid testing in the early stage of infection.
SPOTCHEM FLORA FluAB released by ARKRAY, Inc. (hereafter, 'ARKRAY') is a kit that detects Type A and Type B influenza virus antigens in fluids obtained by nasal swabs or nasal aspiration. Early determination (fastest result: 1.5 minutes) is now possible due to high sensitivity measurement employing the TRF method* with the dedicated measurement instrument SPOTCHEM FLORA SF-5510. By detecting viral infection, for which determination used to be difficult in the early stage, both rapidly and with high detection performance, it is considered the kit shall be beneficial in improving diagnosis efficiency, alleviating the burden on the patient and reducing opportunities for the spread of the influenza virus.
ARKRAY shall continue contributing to rapid diagnosis and appropriate treatment in the front line of the medical field through the development of new diagnosis systems.
*Time-resolved fluorescence method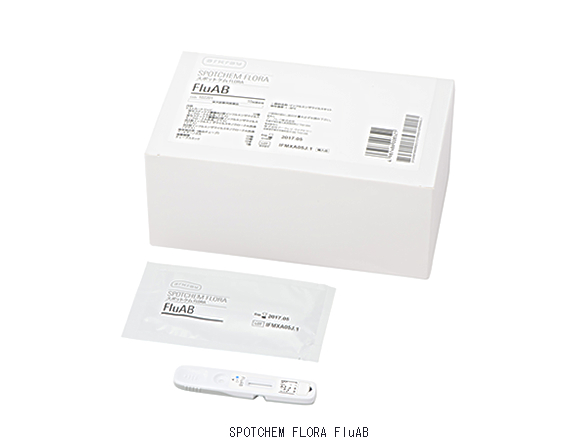 Product Features
• High detection performance
High detection performance is realized through the TRF method employing europium (Eu) as a labeling substance, which has a long fluorescence life time and fluorescence wavelength that allows for easy detection of the virus. Using conventional methods the determination of infection was difficult unless testing took place after the viral load increased in the body. However, it is now possible to determine infection even with the low viral load of early infection.
• Shortened test time
The time for testing, which used to be 10 minutes or more with previous products (previous model and measurement method of ARKRAY products), is now shortened to 1.5 minutes (fastest test time that is for a sample with high viral load). Upon early detection of a positive reaction between 1.5 to 6 minutes the results of early determination are printed out prior to final determination (10 minutes), contributing to shortened test time and lighter burden to the patient in terms of waiting time.
• Simple and automatic measurement
After dripping the pre-processed sample on the cartridge, the result is automatically determined by simply inserting the test cartridge in the instrument. Visual determination and time management which had been conducted manually is now no longer necessary.
• Prevents mix-up of samples
Names or symbols can be entered on the cartridges. Since this information is read in the instrument together with the inspection result, the cartridge is useful in preventing the mix-up of samples.
• Alleviating the burden of patients
In order to alleviate pain at the time of sample collection, soft-tipped flocked swabs are included.
Test procedure

Reference Information
ARKRAY has been selling the SPOTCHEM series of simple testing devices for immediate testing in clinics since 1988. SPOTCHEM FLORA SF-5510 realizes highly sensitive and rapid measurement through the TRF method, supporting the testing of infectious diseases at the site of medical treatment.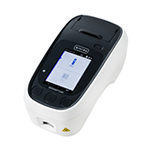 SPOTCHEM FLORA SF-5510
SPOTCHEM FLORA FluAB
Name

Influenza Virus Kit SPOTCHEM FLORA FluAB

Release date

January 11, 2017 (Wednesday)

Specifications

Meas. target
Fluids sampled by nasal swab or nasal aspiration
Meas. items
Influenza virus antigen types A and B
Meas. device
Portable Immunofluorometric Analyzer SPOTCHEM FLORA SF-5510
Meas. principle
Fluorescence immunochromatographic method + TRF method (time-resolved fluorescence method)
Meas. time
ST Check
Test time
10 minutes per sample
(early determination at 1.5 min, 2.5 min, 4 min and 6 min)
Storage method
1 to 30℃, 8 months (Due for extension to 18 months)

Packaging unit

10 tests (Test cartridges, sample extraction fluid, filter nozzles, tube stands, sterile swabs)

Product category

In-vitro diagnostic reagents
Dedicated instrument SPOTCHEM FLORA SF-5510
| | |
| --- | --- |
| Name | Portable Immunofluorometric Analyzer SPOTCHEM FLORA SF-5510 |
| Specifications | |
| Meas. items | Fluids sampled by nasal swab or nasal aspiration |
| Meas. items | Influenza virus antigen (type A/B), Group A Streptococcus antigen |
| Data memory | Normal: 100 measurements, QC: 2 measurements |
| External dimensions | 116(W) × 210(D) × 79.8(H) mm |
| Weight | Approx. 660g (not including batteries) |
Currently, this product is marketed in Japan and Korea.This product will be launched in rest of the world shortly.