Oct 26, 2016
- Directed towards overseas market with diversifying needs -
New release of blood glucose test meter
ARKRAY, Inc. will release the blood glucose meter GLUCOCARD W in late October 2016.
Directed towards the overseas market with diversifying needs, ARKRAY, Inc. (hereafter 'ARKRAY') has newly added GLUCOCARD W to its line-up and shall commence sales from late October 2016. It is a measurement device that meets the requirements prescribed in EN ISO 15197:2015*1 regarding the accuracy of devices and on the effect of interfering substances such as hematocrit*2.
The world's diabetic population continues to rise and as of 2015 it stands at 415 million. It is projected to rise to 642 million by 2040*3. Diabetes may cause complications such as diabetic retinopathy and diabetic nephropathy, so in the interest of prevention, it is important for patients to have proper awareness of their condition and monitor their blood glucose.
In 1970, ARKRAY was the first in the world to succeed in the development of a simplified blood glucose test meter. Through the supply of the GLUCOCARD product line as well as diabetes management systems, ARKRAY has been committed for over 40 years to continually improve QOL for patients and to support professionals at the frontlines of diabetes care who give instructions to patients. ARKRAY will continue to promptly supply products that match the needs in various countries and regions in the world to support the frontlines of diabetes treatment.
Product Features
•High Accuracy Measurement
Realizes highly accurate test results that maintain accuracy in accordance with EN ISO15197:2015. Corrects hematocrit effect before providing test results.
•Rapid and Simple Measurements
Measuring time is just 7 seconds. Speedy measurement is possible.
•Testing with Micro Sample of Whole Blood
A micro sample (0.5μL) from the fingertip is all that is needed for testing.
•Simple Data Management Using USB
Export data to your PC via USB for simple blood glucose management.
•Equipped with Test Strip Disposal Lever
Used test strips can be discharged by pushing the test strip disposal lever, which allows hygienic and safe use without contacting blood.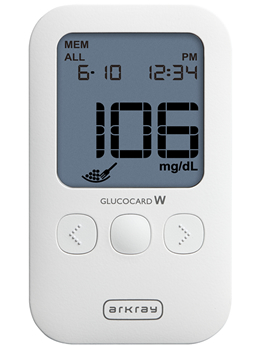 GLUCOCARD W
Terminology
*1 EN ISO 15197:2015
ISO 15197 is the "In vitro diagnostic test systems -- Requirements for blood-glucose monitoring systems for self-testing in managing diabetes mellitus," a specification for self-monitoring devices for blood glucose that has been used since 2003 as the standard for evaluating device performance To further improve the accuracy of self-monitoring devices for blood glucose, clinicians were requesting more stringent requirements. In response, the revised edition, ISO 15197:2013 came into effect in May 2013, providing more stringent variance allowances and newly added requirements on the impact of hematocrit, which was not included in the 2003 edition. Citing this revised international standard, a standard was established in Europe as EN ISO 15197:2015.
*2 Hematocrit
The ratio of red blood cells within the blood.
*3 Estimated number of diabetic patients
Source: "IDF Diabetes Atlas Seventh Edition" (November 2015 / International Diabetes Federation)
Overview of GLUCOCARD W
Name

GLUCOCARD W

Release date

Late October 2016

Specification

Meas. target

Blood glucose level

Meas. range

10 to 600mg/dL,0.6 to 33.3mmol/L

Required sample

0.5 µL (whole blood)

Test strip

GLUCOCARD W Test Strips

Meas. time

7 seconds after applying blood

Memory capacity

500 test results

Operating environment

Temperature: 8 to 40℃ , Humidity: 20 to 80%

Power source

3V: Lithium flat battery x 1

External dimensions

L84.0×W50.0×17.6 mm

Weight

47g

Distribution Territory

Worldwide (excluding Japan)
*This product will not be distributed in Japan.
This product will be sold by ARKRAY Global Business, Inc.
ARKRAY Global Business, Inc. manages overseas distribution for ARKRAY products.