News & Topics
Jun 01, 2016
Urinalysis Dip and Read Method as a rapid chemical analysis.
- AUTION Sticks 4PH is intended for visual examination and interpretation to facilitate everyday diagnosis and group examinations. -
ARKRAY CO. Ltd., Inc. will release the new urine test strips only for visual testing named AUTION Sticks 4PH on Wednesday, June 1st, 2016.
AUTION Sticks 4PH is the new lineup in our current AUTION Sticks series.
This is the first test strips for visual use in our product lines of urine test strip.
It is possible to measure 4 items by 4PH, namely Glu, Pro, pH, S.G. which are effective for screening test.
Additionally, unlike other AUTION Sticks series, 4PH contains 200 test strips.
We will always try to provide products meeting the market needs on time, and continuing to contribute to the medical front.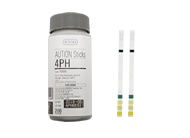 Specifications
Name

AUTION Sticks 4PH

Release date

June 01, 2016 (Wed)

meas. sample

Urine(fresh, voided urine)

meas. item

Glu, Pro, pH, S.G

Reaction time

60 seconds

Reaction temperature

Room temperature

Preservation conditions

Avoid direct sunlight.
Store at temperatures between 1-30 ℃

Expiry

24months after manufacuring date

Availability

200 strips per container
*This product will only be sold in the Philippines.