Mar 29, 2016
Designed for safety by employing disposable system and simple operation enabling ease of use
- Release of new lancet device 'naturalet petit' for micro blood sampling -
ARKRAY, Inc. shall release a single-use automatic lancet naturalet petit on 30 March (Wed), 2016. It is a lancet device for micro blood sampling and features a single-use design by employing an integrated needle and body. This ensures that the product can be used safely by all diabetes patients and medical practitioners. Furthermore, the product has been designed with 'ease of use' in mind, incorporating simple operation and reducing the amount of pain felt when puncturing the skin.
The new product naturalet petit which ARKRAY, Inc. (hereafter, 'ARKRAY') shall release is a lancet device used for the collection of micro blood samples to test the blood glucose value for diabetes.
With an integrated needle and body, the product is designed with safety in mind as the needle is restricted from being exposed at all times until the time of puncturing. Furthermore, by employing a round shape for the tip of the lancet device, it is easy to puncture the sampling site, allowing even elderly patients to use the device easily.
ARKRAY shall continue to provide products that respond to the widely varying needs of diabetes patients and medical practitioners, and support the front lines of diabetes treatment.
Main Features
◯ Designed for safety
Disposable-use design incorporating integrated needle and body. At all times other than when puncturing the needle is secured inside the holder to ensure safety. Also, it is not possible to re-use the lancet by mistake since the puncture button cannot be pressed again after use.
◯ Simple Operation
From preparation to puncturing, operation is simple with 2 steps. Removal of the protective cap is also easy.
◯ Ease of Use
The tip of the lancet device has a round shape, enabling the puncture site to be easily penetrated.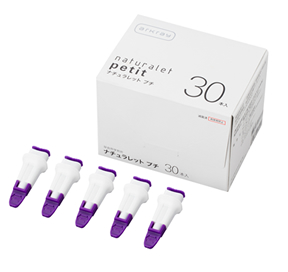 naturalet petit
(Pack of 30)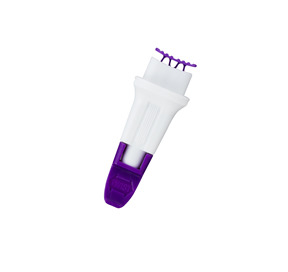 naturalet petit
Operation Method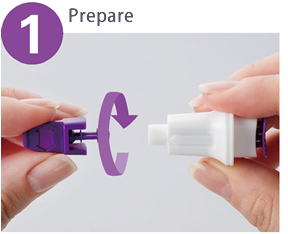 Twist the protective cap and remove it.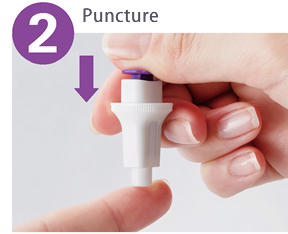 Hold the naturalet petit between the index finger and middle finger. Press it against the disinfected puncture site and push the puncture button.
Overview of naturalet petit
| | |
| --- | --- |
| Name | Single-use automatic lancet device 'naturalet petit' |
| Release date | March 30, 2016 (Wed) |
| Specifications | |
| Pack contents | 30 needles |
| Needle thickness | 30G (Gauge) |
| Puncture depth | 0.7mm |
| Size | 50.9 (H) x 18.4 (W) x 18.4 (D) mm |
| Cert. Number | 228AFBZX00013000 |
| Classification | Class II (Controlled medical device) |
Manufacturer: ASAHI POLYSLIDER Co., Ltd.
This product will be sold through ARKRAY Marketing, Inc.
ARKRAY Marketing, Inc. is ARKRAY, Inc.'s distributor in Japan