Mar 07, 2016
Supporting clinical studies for cancer
- Expanding the genetic testing product line-up -
ARKRAY, Inc. (Headquarters: Nakagyo ward, Kyoto City; CEO: Takeshi Matsuda) will start marketing a dedicated reagent cartridge with the "Maxwell® RSC ccfDNA Plasma Kit" for use with the automated nucleic acid purification system "Maxwell RSC", manufactured and sold by Promega Corporation (Headquarters: Chuo ward, Tokyo; Representative Director: Masahiro Ueda), today on March 7th.
ARKRAY, Inc. (hereafter, "ARKRAY") executed a sales and marketing cooperation agreement with Promega Corporation on marketing the Maxwell, an automated nucleic acid purification system, and its dedicated reagent series, having already marketed the Maxwell 16 as of 2013 and a successor model Maxwell RSC as of 2015. The Maxwell RSC ccfDNA Plasma Kit that ARKRAY shall now distribute is a kit including a reagent cartridge, which efficiently and automatically purifies circulating cell-free DNA (ccfDNA) from human plasma samples using Maxwell RSC.
Circulating cell-free DNA (hereafter "ccfDNA") are DNA fragments which are released into blood by cellular death. Recently ccDNA from cancer cells which is released into plasma is attracting much attention as a cancer biomarker. In addition to comprehensive clinical disease research ranging from cancer to autoimmune diseases, it is expected to be used for monitoring drug resistant genetic mutations of cancer cells aiming for clinical application.
ARKRAY, under the concept of "more genetic testing accessibility", has a product line-up that provides total support for gene-related tests in the hospital, including the Gene Analyzer i-densy IS-5320 and gene analysis support system MEQNET iDia*. From nucleic acid extraction using the Maxwell RSC, amplification and detection with the i-densy IS-5320 and results analysis and report creation using the MEQNET iDia, we have realized simplification and a reduced burden on the medical practitioner during the gene-related testing process.
ARKRAY will continue to enhance its gene-related testing product line-up and provision of total support to promote wider use of tests and contribute to promoting individualized medicine.
*A system that supports the intricate work involved in gene-related testing, including uniform management of test data, support for analysis result determination, and automatic creation of examination reports.
Main Features
•Simple ccfDNA purification
No preprocessing required up to 1mL. ccfDNA can be purified by simply adding the plasma samples to the prepared cartridges.
•High accuracy purification
Short DNA fragments around 170bp can be efficiently purified to a high grade.
•Plasma up to 4mL OK
Nucleic acid can be purified with the large type using up to 4mL of plasma for high collection and high concentration rates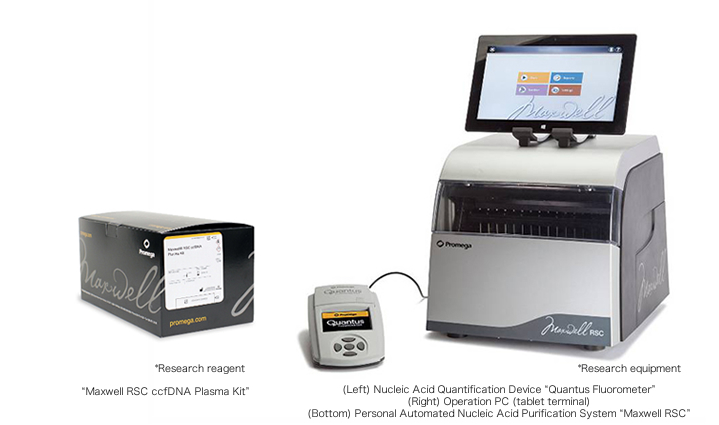 Reference Information
ARKRAY Gene Testing Product Line-up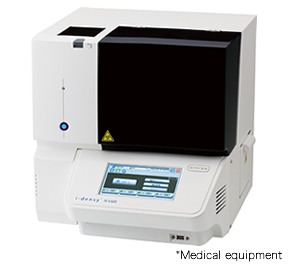 Gene Analyzer "i-densy IS-5320"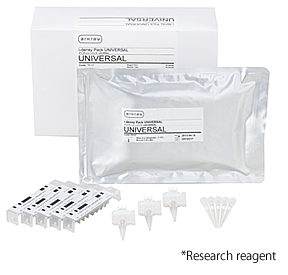 "i-densy Pack UNIVERSAL"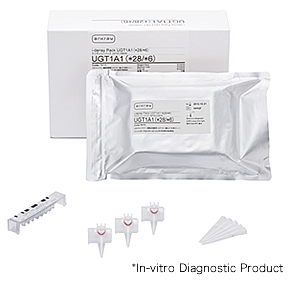 A polymorphism detection kit for UDP glucuronyl transferase (UGT1A1)
i-densy Pack UGT1A1 (*28/*6)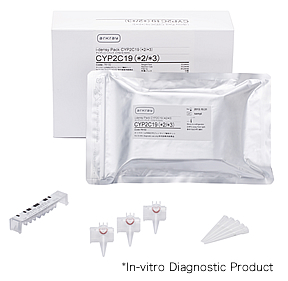 An analysis kit for the Cytochrome P450 (CYP) genotype
i-densy Pack CYP2C19 (*2/*3)
Product Overview: the circulating cell-free DNA (ccfDNA) automated purification kit "Maxwell RSC ccfDNA Plasma Kit"
Name

Maxwell RSC ccfDNA Plasma Kit

Release Date

March 07, 2016 (Mon)

Specifications

Maxwell RSC ccfDNA Plasma Kit 48 preps
Maxwell RSC ccfDNA Plasma Kit (Large) 48 preps
This product will be sold through ARKRAY Marketing, Inc. (ARKRAY, Inc.'s distributor in Japan).
This product is only available in Japan and is not sold in other countries.