Feb 16, 2016
Release of a gene testing kit for drug metabolism enzymes
On 1 March (Tue), ARKRAY, Inc. will release the i-densy Pack CYP2C19 (*2/*3), an analysis kit for the Cytochrome P450 (CYP) genotype for use on the i-densy Gene Analyzer as a dedicated in vitro reagent. This kit is used to select treatment options for the patient such as drug choice and dosage prior to treatment.
Different people will have different reactions and side effects to certain drugs and this is thought to be due to the genotypes associated with drug metabolism enzymes.*1 Some of these genotypes are associated with decreased enzyme activity and may affect drug efficacy and the presence/absence of side-effects. As such the attention paid to testing prior to treatment is growing. Cytochrome P450 (herein 'CYP')*2 is a key group of drug metabolism enzymes. Of the CYP enzymes, CYP2C19 is involved in the metabolism of many different drugs such as treatments for digestive tract ulceration and platelet inhibitors.
Previous genotype determination was a complicated, manual procedure and very time-consuming. But with the i-densy Pack CYP2C19 (*2/*3) , whole blood or DNA extracted from whole blood can be used with the i-densy IS-5320 from ARKRAY for fully-automatic, simple and rapid gene testing.
ARKRAY will continue with research and development into gene analyzers and their reagents and continue supporting progress towards personalized medicine.
*1 Genetic information is not the same for every person but actually subject to partial variations from person to person. These genetic variations are called 'genetic polymorphisms.' Although there are various types of polymorphism, a difference in 1 nucleotide is called SNP (pronounced snip; single nucleotide polymorphism).
*2 These key metabolism enzymes exist within the liver and are known to effect the dynamic state of drugs within the body.
Reference Information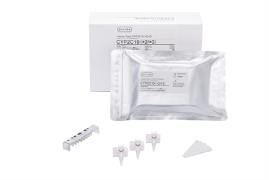 i-densy Pack CYP2C19 (*2/*3)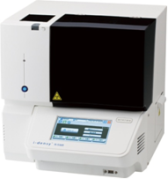 i-densy IS-5320 Gene Analyzer
The i-densy IS-5320 is an instrument for the fully-automatic analysis of base pair sequences associated with drug metabolism and cancer related genetic mutations. It does not require a high degree of technical skill to operate and all steps from sample pre-treatment to gene amplification and genotyping are simple. Where previously it took many days from sample collection to output of results, genotyping now takes 80 minutes. ARKRAY first released the IS-5320 back in 2012 followed by the release of the in vitro genetic reagent i-densy Pack UGT1A1 (*28/*6) in January 2014. ARKRAY continues to support personalized medicine through its development of associated instruments.
Product Overview: i-densy Pack CYP2C19 (*2/*3)
Name

i-densy Pack CYP2C19 (*2/*3)

Release date

1 March, 2016 (Tue)

Specifications

Meas. Sample
Whole blood, genomic DNA extracted from whole blood
*Only for use with samples from Japanese patients with known gene sequences
Meas. Items
Drug metabolism enzyme gene CYP2C19 (*2/*3)
Meas. Analyzer
i-densy IS-5320
Meas. Principle
PCR+Tm Analysis method (the QP method)


*This system uses the QP (Quenching Probe) method and technology patented by NIPPON STEEL & SUMIKIN Eco-Tech Corporation.

Meas. Time
Whole blood: approx 90mins per sample
Purified nucleic acid: approx 80mins per sample (*depending on meas. items)

Approval No.

22400AMX01410000

Product Classification

In vitro diagnostic product

Classification

Class III (Item not subject to approval standards)
This product will be sold through ARKRAY Marketing, Inc. (ARKRAY, Inc.'s distributor in Japan)
This product is only available in Japan and is not sold in other countries.