Jan 22, 2015
Release of a Compact HbA1c Analyzer into
the Global Diabetic Medical Field
ARKRAY, Inc. is due to release the
PocketChem A1c
, a glycated hemoglobin analyzer, in February, 2015. This simple and rapid meter for HbA1c (hemoglobin-A1c) *
1
is intended for use as a diabetes test marker for use within clinics and hospitals.
As of 2014, worldwide the number of diabetic patients has risen to 386.7 million amounting to one in twelve of us. Since this number is expected to reach 592 million in 2035*2, early detection through diagnosis and prompt treatment is an urgently requirement to prevent both the progression disease and the development of complications.
HbA1c serves as an important test marker reflecting the average blood glucose levels over the previous one to two months and is used in the diagnosis and treatment of diabetes. In short, the immediate and accurate measurement of HbA1c is now a requirement within the diabetes testing field.
ARKRAY, Inc. (hereafter, ARKRAY) will release the PocketChem A1c, a compact analyzer for the rapid and simple four-step measurement of HbA1c. This will enable doctors to rapidly obtain a result and commence early treatment. It will also enhance the work efficiency for health professionals, shorten re-examination and waiting times, which in turn will ease the burden on patients.
ARKRAY currently distributes diabetes-related products such as HbA1c analyzer, self-monitoring blood glucose systems and glucose analyzers in more than eighty countries worldwide, and will initially release PocketChem A1c in India and Europe, followed later by Middle East, Africa and Latin America.
ARKRAY aims to continue its contribution to the diabetes medical field by introducing and supplying the market-appropriate products based on market demand.
Product Features
•Quick and easy measurement of HbA1c
HbA1c, can be measured in approximately 4 minutes, reducing the time and effort for measurement without the need for centrifugation.
*Two reportable values can be selected from NGSP,
IFCC, and JDS values.
•Measurement with tiny amount of whole blood specimen
This device performs measurement with just 4μL of finger-stick or venous whole blood.
•Light weight and space saving design
With its space-saving footprint and light weight design, it is well suited to use in small and medium-sized clinics.
•No maintenance
No special daily maintenance is required.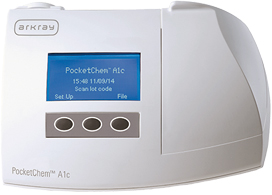 PocketChem A1c
Simple four-step measurement

Description of terms
*1 HbA1c (hemoglobin)
This is formed when hemoglobin within red blood cells binds with glucose. It is proportional to the average blood glucose over the previous 1-2 months. It is a key marker used widely from diabetes diagnosis to treatment and for the control of blood glucose.
*2 Estimated number of diabetes patients
According to the "Diabetes Atlas 6th edition: 2014 Update" (November 2014 /International Diabetes Federation (IDF))
Product Overview: PocketChem A1c
Name

PocketChem A1c

Product Launch

February, 2015

Specifications

Meas. target
Whole blood
Meas. item
Hemoglobin-A1c (HbA1c)
Meas. principle
Boronate affinity method
Meas. range
4 to 15% (NGSP value)
Required amount of specimen
4μL
Reagent to be used
Exclusive reagent for the PocketChem A1c
Meas. time
Approx. 4 minutes per specimen
Power source
AC100V-240V±10% 50/60Hz
External dimensions
205 (width) x 135 (length) x 95 (height) mm
Weight
0.7kg

Sales area

Worldwide
*This product will not be distributed in Japan.
This product will be distributed by ARKRAY Health Care Pvt. Ltd. and Color Trading Sp. z o. o.