Aug 05, 2015
The Rapid Blood Analyzer that Contributed to the Widespread Use of On-the-Spot Testing at Practitioner's Offices and Clinics
- Inducted into the Analytical and Scientific Instrument Heritage Certification -
The RaBA-3010 RAPID BLOOD ANALYZER, developed and released by ARKRAY, Inc. in 1971, was recognized as a heritage by the 4th Analytical and Scientific Instrument Heritage Certification of Fame operated by the Japan Scientific Instruments Association and the Japan Analytical Instruments Manufacturers' Association.
Rapid and simple blood biochemistry analysis devices were not in widespread use at the time, and the availability of this device made on-the-spot testing at practitioner's offices and clinics possible. This fact was valued highly by the certifying body.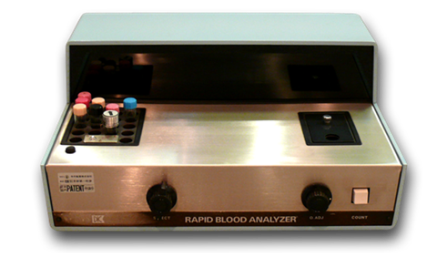 RaBA-3010 RAPID BLOOD ANALYZER (1971)
Recently inducted into the 4th Analytical and Scientific Instrument Heritage Certification, the RaBA-3010 RAPID BLOOD ANALYZER is a system composed of a blood biochemistry analysis device and reagents, and can rapidly and simply measure 14 different testing items.
Blood sera and plasma, obtained from collected blood using a centrifuge, could be dispensed into reaction/color comparison tubes by an automatic pipette to obtain measurements within 10 to 90 minutes, depending on the testing item. Because dedicated and stable reagents were used, there was no need to draw a calibration line (instrument comes installed with a standard calibration line). Also, the compact design used integrated circuitry for its electrical system, allowing the measurement results to be digitally displayed directly on the device, creating an innovative package for its time.
At the time the product was released in 1971, blood biochemistry testing had only begun to be automated in the central testing labs of large hospitals, and at practitioner's offices and clinics, even if tests were outsourced, results required about one week. In those times, the RaBA-3010 emerged realizing on-the-spot testing at practitioner's offices and clinics, allowing doctors to obtain testing results within 90 minutes and diagnose and treat patients based on this time frame. The RaBA-3010, allowing rapid and simple blood tests, saw widespread use as a testing system for the clinical front-line that could be used by anyone, anytime, anywhere. In an era when the term "Point of Care Testing (POCT)" didn't even exist, this product made testing based on this concept a reality.
As a further note, RaBA-3010 is the second ARKRAY product to be inducted after the induction of the HA-8110 Glyco-Hemoglobin Automatic Analyzer AUTO A1c (1981) in 2012 in to the Analytical and Scientific Instrument Heritage Certification.
Terminology
* Point of Care Testing (POCT)
An abbreviation used to describe testing that is carried out at the point of care or treatment such as at a patient's bedside. The types of location that POCT can refer to include a doctor's private clinic, hospital ward or outpatient department.
On the certification body for Analytical and Scientific Instrument Heritage Certification
☐Overview
The certification system was introduced by the Japan Analytical Instruments Manufacturer's Association (Chairman: Gon-emon Kurihara/Representative Director, JEOL, Ltd.) and Japan Scientific Instruments Association (Chairman: Hideto Yazawa/Representative Director, Dalton Co., Ltd.) to recognize important contributions made by analytical technology, analytical instruments, and scientific instruments to the life, economy, education, and culture of Japanese citizens, and pass on this cultural heritage to the coming generations. The system was inaugurated in 2012, and 11 items were recognized in 2015. Member companies are permitted to nominate up to 2 items per company, and 20 items were nominated. A board of 6 experts from industry, government and academia met to review the selections after stringent deliberation. The selected instruments were all world-class instruments and technology at the time of release, and should be passed on to the next generation as the power of science.
☐Certification criteria
(1) Technologies or instruments that realized significant results in the development and history of techniques/instruments related to analytical measuring and scientific instruments, as well as science and technology as a whole, and hold great significance to pass on to the next generation, which represent:
important aspects and phases for the development of techniques and instruments related to the relevant scientific instrument or to science and technology
originality in development of scientific or analytical instruments from an international perspective
contributions to the creation of new scientific instruments and analytical instruments
(2) Technologies or instruments that notably affected the development and nature of the economy, society, culture, and daily life for the people of Japan which fulfill the following criteria:
Made important contributions to progress in the daily life of the people of Japan
Contributed to the enhancement of the economy and industries of Japan and to the improvement of Japan's position in the world
Made important contributions in the relationship of society and culture to science and technology as well as scientific instruments
☐Objects of certification are, as a basic rule, classified as follows:
(1) Instruments that are retained past its use, or are collected and stored
(2) Documents and/or test specimen related to techniques or instruments
☐Display of certified products and the certification ceremony
The certification ceremony will be held at JASIS 2015, at Makuhari Messe starting on Wednesday, September 2, 2015. The product will be displayed during the show period within the show premises.
Product Overview
Name

RaBA-3010 RAPID BLOOD ANALYZER

Year of Release

1971

Specifications

Meas. target

Blood serum and plasma

Meas. items

Hemoglobin, total protein, albumin, ZTT, TTT, GOT, GPT, alkaline phosphatase, LDH, LAP, glucose, BUN, bilirubin, total cholesterol

Meas. time

10 minutes to 90 minutes
(depending on the measurement item)

Power consumption

120VA

Dimensions

410(W) × 310(D) × 170(H)mm

Weight

Approximately 9kg