News & Topics
Apr 27, 2015
Supporting the growing demand for renal disease testing within the field of animal care
- Launch of a Urine Analyzer Specifically Designed for Dogs & Cats -
ARKRAY, Inc. will launch Urine Analyzer thinka RT-4010, specifically designed for dogs and cats, as a new addition to the dedicated animal healthcare brand 'thinka' for the overseas market from May onwards. With this instrument measurements of the protein-creatinine ratio in urine can be carried out quickly and easily, serving to support the growing demand for the testing of renal disease at veterinary clinics.
Recently, the onset and further worsening of chronic kidney disease within animals has become a problem. Since the advancement towards end stage renal failure can be accelerated if the disease is left untreated, there has been a growing demand for immediate testing within veterinary clinics, which would allow for earlier diagnosis of the disease.
ARKRAY, Inc. (ARKRAY hereafter) will release thinka RT-4010, a urine analyzer specifically designed for dogs and cats that can quickly and easily measure the protein-creatinine ratio (UPC) in urine. This test item is a very useful marker for the early detection of renal disease. Since the UPC value is used as part of renal disease evaluation systems that are based on stage classifications defined within established guidelines*, a significant value has been placed on the measurement of UPC when testing kidney function.
However, currently there are many veterinary clinics that lack instruments which can provide immediate measurements and consequently many veterinarians have to outsource testing to an external medical institution. Since under these circumstances a considerable amount of time would be spent waiting for measurement results to be delivered and veterinarians are hindered from quickly analyzing the cause of disease, a significant demand has emerged for a small-sized instrument that could provide immediate measurement results directly within veterinary clinics. When we set out to make such an analyzer a reality, we gathered the knowledge and expertise for urinalysis that we had accumulated over many years of developing urine analyzers and in vitro diagnostic reagents for human diagnosis.
Moving forward, ARKRAY will continue to develop products that serve to support veterinary clinics and contribute to extending the healthy life expectancy for pets.
※IRIS(International Renal Interest Society) Staging of CKD (modified 2013)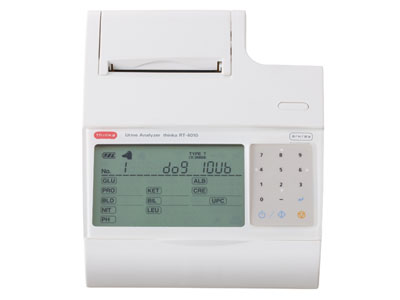 Urine Analyzer thinka RT-4010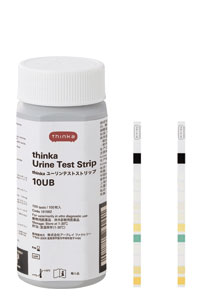 thinka Urine Test Strip 10UB
Product Features
•Quick and easy measurement specifically for dogs & cats
- 2 measurement modes covering dogs & cats (switched before measurement)
- By simply pressing the start button and placing the test strip in position, measurements can be completed with simple operation.
- The output of test results is completed in only 1 minute.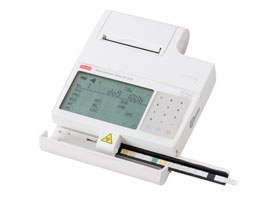 Dog mode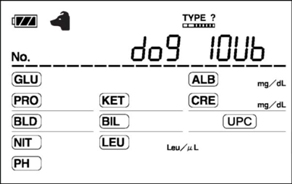 Cat mode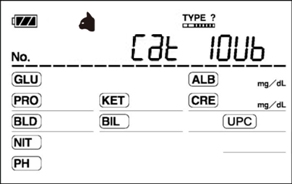 •Palm-sized & light-weight design
The instrument is palm-sized and incorporates a light-weight design. Since the instrument is completely portable, measurements can be carried out in any location. Printer is detachable from the meter itself.
•UPC values displayed in 5 stages
Proteinuria diagnosis can be carried out irrespective of urine dilution / concentration.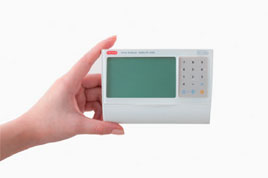 •Increased test efficiency
- By switching from manual visual inspection to diagnosis utilizing the instrument, the work for each test can be reduced, leading to an overall increase in test efficiency.
- Test results can be printed out and pasted on health records.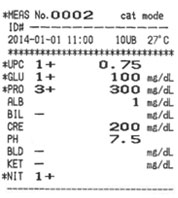 Product Overview: thinka RT-4010
Name

Urine Analyzer thinka RT-4010

Release date

May 2015

Specifications

 Sample type
Urine
 Target animals
Dogs and cats
 Meas. principle
Test strip: Dual wavelength reflectance method
(one wavelength for BLD measurement)
 Meas. wavelengths
3 LED wavelengths (565, 635, 760nm)
 Sample application method
Manual dipping
 Compatible test strip
thinka Urine Test Strip 10UB
 Turnaround time
50 tests / hour
 Meas. time
Approx. 60 seconds / test
 Display
Custom LCD
 Memory capacity
100 tests
 External output
Compliant with RS-232C
 Meas. environment
Temperature: 10 to 30 ℃, humidity: 30 to 60%RH
(no condensation) 
*Temperature compensation function used.
 External dimensions
124 (width) x 81 (depth) x 36 (height) mm
 Weight
180g (without batteries)
 Power source
Instrument only: 2 AA alkaline batteries or AC adapter
Instrument with printer: AC adapter 7.5V 3A

Sales area

Worldwide
Worldwide (excluding Japan)
Product Overview: thinka Urine Test Strip 10UB
Name

thinka Urine Test Strip 10UB

Release date

May 2015

Specifications

 Instrument
Urine Analyzer thinka RT-4010
 Sample type
Urine
 Meas. items
Glu, Pro, Alb, Bil, Cre, pH, Bld, Ket, Net, Nit, Leu*
*for dogs only
 Storage / shelf life
Temperature: 1 to 30 ℃ / 2 years after production
 Packaging unit
100 strips per bottle

Sales area

Worldwide
Worldwide (excluding Japan)
This product will be sold by ARKRAY Global Business, Inc.
ARKRAY Global Business, Inc. manages overseas distribution for ARKRAY products.