ARKRAY, Inc. held a groundbreaking ceremony today (Wed, February 25th) to mark the commencement of the 2nd phase of construction at the
ARKRAY Industry, Inc.
factory located in Batangas, Republic of the Philippines, which will add new production and distribution facilities. By expanding production capabilities and establishing a distribution system, the factory will carry out a more significant role as a key production facility for the ARKRAY group and will allow us to respond to the growing demands within the markets for clinical testing devices and in-vitro diagnostics.
ARKRAY, Inc. (ARKRAY hereafter) established ARKRAY Factory, Inc. (Shiga, Japan) functioning as the 'mother factory' for production, as well as its 5 production sites - in China (Shanghai, Pinghu), the United States (Minnesota), the United Kingdom and Russia, which collectively make up a production network based in 6 countries. Products are currently distributed to over 80 different countries.
Since it launched operations in September 2011, the Philippines factory for ARKRAY Industry, Inc. has mainly focused on the production of in-vitro diagnostics such as reagents for urinalysis. With the completion of a new instruments production factory and a distribution center, a full-scale manufacturing line and a system to enable shipments will be established. This will allow us to swiftly provide products to meet the needs of not only the surrounding countries but also on a global level. Additionally, we plan to expand the range of products in the production line-up which will serve to further strengthen the role of the factory as a key production facility for the ARKRAY group, responding to the growing demand for clinical testing devices and in-vitro diagnostics on a global level.
ARKRAY will continue to focus on improving production capabilities, establishing an efficient production system and enhancing customer service in order to provide products suited to the needs and trends of the global market.
Outline of the Factory
Location
Lot 22 Phase 1A, First Philippine Industrial Park, Brgy. Sta. Anastacia, Sto. Tomas, Batangas 4234, PHILIPPINES
TEL +63-43-405-6450 FAX +63-43-405-6449
Scale of facilities
New factory building- approx. 5,000 m2 (Total site surface area- approx. 20,000 m2)
Production line-up
Clinical testing devices
Expected Completion
Nov, 2015
Commencement of Production
April, 2016
Outline of ARKRAY Industry, Inc.
| | |
| --- | --- |
| Representative | Masanori Hatta |
| Number of employees | Approx. 150 (Approx. 300 expected after completion) |
| Business Description | Manufacture of clinical testing devices, in-vitro diagnostics (reagents), etc. |
Concept art for completed factory site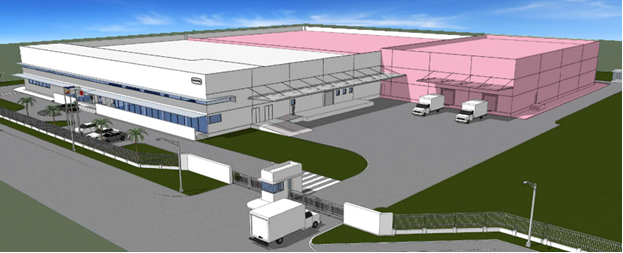 *The buildings highlighted in pink are the new facilities.