Dec 17, 2014
Supporting Rapid Testing and Diagnosis During the Flu Season, ARKRAY, Inc. Releases the Influenza Virus Kit SPOTCHEM™ i-Line FluAB-S
ARKRAY Inc. will release the influenza virus kit,
SPOTCHEM i-Line FluAB-S
, for sale to medical institutions throughout Japan on December 22, 2014 (Monday). One test can rapidly determine influenza Type A and Type B to support influenza testing during the flu season.
The influenza virus spreads predominantly in the winter season of each year, and many people suffer from this acute viral infection.
Serious cases of the illness carry the risk of pneumonia in the elderly, and may cause complications of encephalitis and encephalopathy in small children. To prevent complications and serious incidents of the infection, diagnosis and treatment must be commenced at an early stage and the rapid testing of the influenza virus at the treatment site plays an important role.
SPOTCHEM i-Line FluAB-S released by ARKRAY Inc. (hereafter, ARKRAY) is a kit that detects Type A and Type B influenza virus antigens in fluids obtained by nasal swabs or nasal aspiration. Results can be determined visually as well as by using the dedicated measurement device (densitometry analysis device, SPOTCHEM IL SL-4720), and both positive and negative results can be determined in roughly 10 minutes (a 5 minute reduction compared to existing products*.) Through rapid testing, waiting time will be shortened, reducing the burden on the patient and improving treatment efficiency, leading to reduced risk of contagion for the flu virus.
ARKRAY aims to continue ongoing development of immediate testing devices and kits to facilitate rapid diagnosis and appropriate treatment in the front line of the medical field.
* Comparison to ARKRAY's existing product, SPOTCHEM i-Line FluAB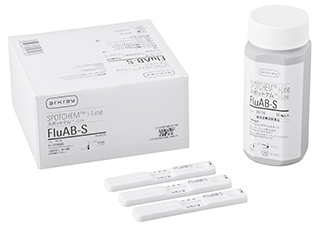 SPOTCHEM i-Line FluAB-S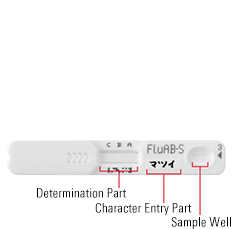 Test Cartridge
Testing Steps
Measurement process for the device (using the dedicated measurement device, SPOTCHEM IL SL-4720)

Reference Materials
ARKRAY has been selling the SPOTCHEM series of simple testing devices for point of care (POC) testing in clinics since 1988.
The SPOTCHEM IL SL-4720 is a small rapid testing device that automates immunochromatic testing.
This device was developed from the concept of improving treatment quality by using a device that conducts tests quicker, more accurately and easily than the previous practice of visual inspection.
By entering the patient name in the reagent cartridge for the device, patient names will be printed out with the measurement results, reducing the risk of mistaking specimens.
Also, the installation area of the device is less than the size of an A4 sheet of paper, so it does not take up much space.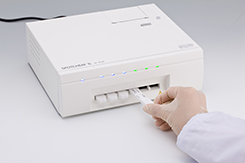 Measurement using the SPOTCHEM IL SL-4720
Overview of SPOTCHEM i-Line FluAB-S
Name

Influenza Virus Kit SPOTCHEM™ i-Line FluAB-S

Release Date

December 22, 2014 (Monday)

Specifications

Measurement Target
Fluids sampled by nasal swab or nasal aspiration
Measurement Items
Influenza virus types A and B
Measurement Device
Densitometry analysis device SPOTCHEM IL SL-4720
Measurement Principle
Immunochromatographic method
Measurement Time
Approx. 10 minutes per specimen
Storage Method
2 to 30 C(do not freeze), 18 months

Packaging Unit

10 units (10 tests)
Test cartridges, specimen extraction fluid (extraction tubes), filter nozzles

Retail Price

Preferred Delivery Price: 12,000 Yen (before tax)

Approval No.

22600AMX01321000

Product Category

Extracorporeal Diagnostic Agent

Classification

Class III
This product will be sold through ARKRAY Marketing, Inc. (ARKRAY, Inc.'s distributor in Japan).
This product is only available in Japan and is not sold in other countries.