News & Topics
Dec 11, 2014
New Release of Voice Guidance Device for
Self-Monitoring Blood Glucose Meter to Facilitate
Use by Elderly Patients
ARKRAY Inc. will release the
PlusTalk GO-9650
, a dedicated audio output device for the self-monitoring blood glucose meter Glucocard G Black for sale to medical institutions throughout Japan on December 15, 2014. Voice guided functions can be used by simply attaching the card to Glucocard G Black to facilitate daily blood glucose measurements for elderly patients and vision-impaired patients who may lack experience with meter operations.
The population of diabetes patients has grown older in recent years; over 60 percent of such patients are now aged 60 or over*. Due to deteriorating vision and sense of touch, many elderly patients may feel that they have difficulty using their diabetes monitors for daily glucose measurements, so further improvements in readability and usability are called for.
The PlusTalk GO-9650 to be released from ARKRAY Inc. (hereafter ARKRAY) is a voice guidance device that can be used by simply attaching it to the self-monitoring blood glucose meter Glucocard G Black. Voice guidance for measurement operations and measurement result notifications corresponds to the screen display on the Glucocard G Black to facilitate blood glucose measurements by the patient.
ARKRAY is committed to developing products that respond to a broad range of needs in the field to improve QOL for the patient and to contribute with treatments for diabetes in day-to-day practice.
* According to the 2012 National Health and Nutrition Survey (MLHW)
Product Features
•Voice Guidance for Meter Operations
For elderly patients, patients with impaired vision, and others who may feel uneasy about screen-based meter operation, voice guidance allows easy measurement of blood glucose.
• Audio Notification of Measurement Results
Measurement results are announced via screen display and audio output.
•Ability to Remove Device as Needed
If voice guidance is not required, the device can be easily removed.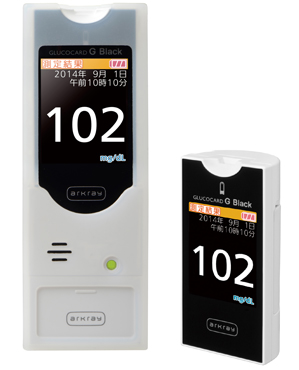 PlusTalk GO-9650 (Left)* Glucocard G Black (Right)
*Photo shows view of the product attached to Glucocard G Black
Product Overview: PlusTalk GO-9650
Name

PlusTalkTM GO-9650

Product Launch

December 15, 2014 (Monday)

Specifications

Output
Speaker (language: Japanese)
Display
Battery Lamp: Green LED
(ON: Full, Blinking: Replace, OFF: Inoperable)
Volume
4 Levels (OFF, 1, 2, 3)
Batteries
LR1 alkaline batteries (x2)
Battery Life
Approx. 1,000 measurements
*Number of measurements may be less depending on how the product is used.
External Dimensions
46mm×62mm×30mm
(When GT-1830 is connected, 48mm x 134 mm x 33mm with cover)
Weight
80g (incl. cover and batteries)
(Approx. 155g when connected to GT-1830)

Preferred Delivery Price

11,000 Yen (tax not included)
This product will be sold through ARKRAY Marketing, Inc. (ARKRAY, Inc.'s distributor in Japan).
This product is only available in Japan and is not sold in other countries.