Sep 29, 2014
Contributing to Various Needs of Diabetes Testing

-Realizing High Performance Measurement of HbA1C with Small Rapid Test Device-
ARKRAY, Inc. will release the
ADAMS A1c mini
, a glycated-hemoglobin analyzer on Monday 29 September.
This system allows for the measurement of key diabetes parameters, HbA1c (hemoglobin A1c)*
1
using the HPLC method*
2
in just 3 minutes, supporting diabetes testing for clinics and smaller hospitals.
There are approximately 9.5 million people*3 in Japan who are strongly suspected to be suffering from diabetes and this number is rising. To predict the onset of symptoms and increase in severity, testing is very important to identify these people quickly so that they can begin treatment.
As such, the early results of high performance HbA1c and the need for quick decision of treatment within diabetes clinics and smaller hospitals have grown.
The ADAMS A1c mini, due to go on sale from ARKRAY, Inc. (herein, 'ARKRAY'), is an HbA1c analyzer using the HPLC method for clinics and smaller hospitals. Analyzers using the HPLC method have high performance, whereas they mainly come in large size making it difficult for clinics to use them. However, the ADAMS A1c mini has a compact design and is expected to contribute to diagnosis and treatment of diabetes for more medical facilities.
ARKRAY is a pioneer in diabetes testing and will continue to provide products that address a wide range of needs within the diabetes testing field.
Product Features
•High performance measurement for HbA1c
Measurement of HbA1c (important diabetes analyte) using the HPLC method with high performance

•Easy, rapid measurement with micro-volume blood
Measurement with micro-volume whole blood (3 µL)
Requiring no centrifugation or other pretreatment and cutting hassle and time.
Printed results are available in just about 3 minutes.

•A compact design
A compact design analyzer will make it possible for clinics to use it.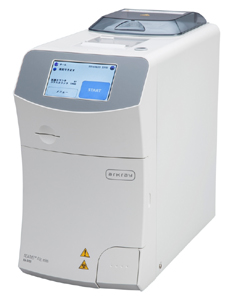 ADAMS A1c mini
Terminology
*1 HbA1c (hemoglobin A1c)
This is formed when hemoglobin within red blood cells binds with glucose. It is proportional to the average blood glucose over the previous 1-2 months. It is a key marker used widely from diabetes diagnosis to treatment and for the control of blood glucose.
*2 HPLC method (High Performance Liquid Chromatography)
HPLC is a method to separate the individual constituents from a matrix and to calculate their proportion of the total. It is also a high precision method for detecting HbA1c. ARKRAY developed the world's first dedicated HbA1c analyer using HPLC back in 1981 which is still used widely in medical facilities today.
*3 Estimate of number of diabetics
Source: 'National Health and Nutrition Survey 24' (Ministry of Health Labour and Welfare, March 2014)
Overview of the ADAMS A1c mini
| | |
| --- | --- |
| Name | ADAMSTM A1c mini |
| Release date | 29 September 2014 |
| Specifications | |
| Sample type | Whole blood |
| Meas. items | Hemoglobin A1c (HbA1c) |
| Meas. principle | HPLC |
| Meas. range | 4-15% (NGSP) |
| Sample volume | 3µL |
| Reagents used | Dedicated reagent for ADAMS A1c mini |
| Processing speed | Approx. 3 minutes/sample |
| Power consumption | Maximum of 52 VA |
| Outer dimensions | 194 (width) x 375 (depth) x 364 (height) mm |
| Weight | Approx. 11 kg (not including AC adapter) |
| Sale price | JPY1,800,000 (Tax not included) |
| Notification No. | 13B2X00163225003 |
| Classification | Class I (General Medical Device/Special Maintenance Control Medical Device) |
This product will be sold through ARKRAY Marketing, Inc. (ARKRAY, Inc.'s distributor in Japan).
This product is only available in Japan and is not sold in other countries.

*This product is manufactured by Sekisui Medical.