Aug 28, 2014
Supporting precision control of urine testing

-Release of a new liquid control reagent for test strips-
ARKRAY, Inc. is due to release the
AUTION CHECK Plus
, the control reagent for urine test strips, on Wednesday 3 September. With the release of the control reagent for precision control combining the measurement of micro albumin and creatinine, ARKRAY will be able to give total support to urine testing.
Within the testing field, controlling precision is very important to check if sample test instruments and reagents work properly and provide accurate measurement results in improving reliability of the results.
ARKRAY, Inc. (herein 'ARKRAY') is due to release the AUTION CHECK Plus, the control reagent to control precision of the system for utine test strips*1 sold by ARKRAY. It can measure control reagents and check the status of test instruments and reagents by comparing with pre-set expectation values.
AUTION CHECK Plus is a liquid reagent and does not need complicated preparation such as dissolving necessay for ARKRAY's lyophilized reagents (AUTION CHECK I, II). This allows easy precision control. It can also measure two new control items, micro albumin and creatinine, in addition to the current items*2.
ARKRAY will continue to provide products that meet the wide-ranging needs of urine testing and support it.
*1 Measurement system using urine test strips AUTION Stick series, Uriflet S series, and AUTION SCREEN
*2 Measurement items of AUTION CHECK I, II
Glucose, Protain, Blood, Bilirubin, Urobilinogen, pH, Ketone body, Nitrite, Leucocyte, S.G.
Product features
•No preparation
Liquid reagent whose main raw material is human urine does not require preparation and controls precision easily.

•Excellent storage stability
It can be refrigerated for 30 days from time of opening.

•Many items
Addition of micro albumin and creatinine
increases control item lineup.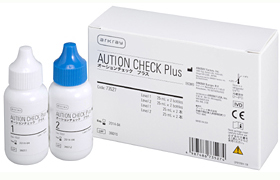 AUTION CHECK Plus
*Tests on HBs, HBc, HCV, HIV1 and HIV2 were performed using this product and negative results were obtained. However it does not assure that the product that is human-derived does not contain HCV virus or HIV virus.
Overview of AUTION CHECK Plus
Name

AUTIONTM CHECK Plus

Release date

3 September 2014

Specifications

Compatible test strips
AUTION Sticks series, Uriflet S series, AUTION SCREEN
Micro albumin, creatinine
No. of tests in pack
AUTION CHECK Plus Level 1 25 mL x 2
AUTION CHECK Plus Level 2 25 mL x 2
Storage
Refrigerated at 2-8C (no freezing)
Shelf life
18 months after manufacturing, 30 days from time of opening

Requested delivery price

JPY19,500 (Tax not included)
This product will be sold through ARKRAY Marketing, Inc. (ARKRAY, Inc.'s distributor in Japan).