Aug 21, 2014
Supporting the diagnosis & treatment of early onset kidney failure

Release of a new rapid test reagent for use in clinics
On 28 August, ARKRAY, Inc. will release
SPOTCHEM Banalyst CysC (Cystatin C)
a new and dedicated reagent for the measurement of Cystatin C on the SPOTCHEM Banalyst SI-3610 System, a portable centrifuge-method clinical chemistry analyzer. This system will serve to support the diagnosis and treatment of early onset kidney failure within clinics.
The SPOTCHEM Banalyst CysC (Cystatin C) from ARKRAY, Inc. (herein 'ARKRAY') is a test kit (an in vitro diagnostic product) for the testing of kidney failure. It is used together with blood samples (whole blood or plasma) on the SPOTCHEM Banalyst SI-3610 (on sale through ARKRAY) for the fully-automatic, simple and fast measurement of Cystatin C for use in clinics to aid in rapid testing.
Cystatin C is an important indicator of kidney function. Its utility as an accurate diagnostic marker of diabetic nephropathy*1, IgA nephropathy*2 and other types of chronic kidney disease*3 (CKD) and early onset kidney damage is well known.
In the past, serum creatinine has been used as test for kidney function but this is subject to influence from diet, muscle mass and exercise. In contrast, cystatin C is not affected by these factors and rises in concentration within blood in line with even minor decreases in kidney function. This allows it to be used for the diagnosis of early onset kidney failure which serum creatinine cannot detect.
In recent years, the number of patients receiving dialysis therapy due to end-stage kidney failure has increased significantly to 300,000 people*4 across Japan. To combat this, the early detection and treatment of impaired kidney function is key and the need for rapid testing within clinicals has grown.
ARKRAY will continue to boost its product lineup and offer support to the medical field as a pioneer in diabetes testing.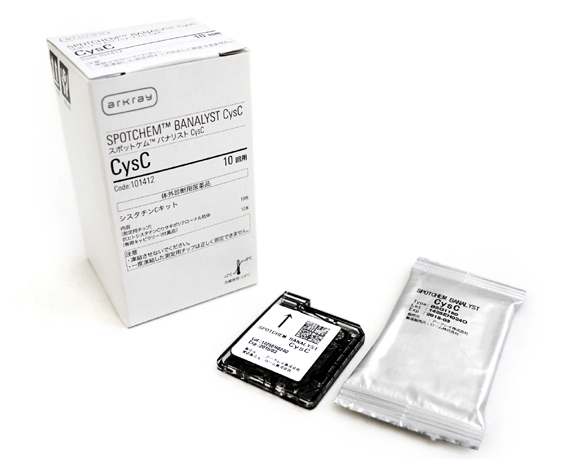 SPOTCHEM Banalyst CysC
Related products
ARKRAY has been supplying clinics with POCT rapid tests from the SPOTCHEM series since 1988. The SPOTCHEM Banalyst SI-3610 uses µ-TAS (Micro-tas) technology*5 to offer high precision measurement in a compact Test system. CysC is the 4th reagent in the series joining HbA1c, CRP and other diabetes and infectious diseases.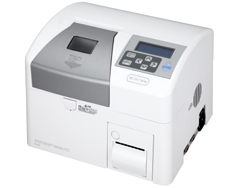 SPOTCHEM Banalyst SI-3610
Terminology
*1 Diabetic nephropathy
This is a form of microvascular damage caused by prolonged and chronic hyperglycemia. This presents clinically with proteinuria (initially microalbuminuria), impaired kidney function, hypertension and odema eventually progressing to kidney failure.
*2 IgA nephropathy (Immunogloburin A, chronic glomerulonephritis)
IgA is immunoglobulin A, an immune substance that usually protects the organism. A different type of IgA appears in the presence of the conditions such as the common cold, tonsilitis etc which can cause inflammation when it reaches the glomeruli of the kidney resulting in kidney inflammation marked by hematuria and proteinuria.
*3 Chronic Kidney Disease (CKD)
This refers to chronic kidney damage. It is closely linked to hypertension, diabetes as well as other lifestyle diseases and metabolic syndrome. Further risks present as kidney function continues to deteriorate as a result of CKD. (Source: Japanese Society of Nephrology: CKD Treatment Guide 2012, Evidence-based CKD Treatment Guidelines 2013)
*4 Number of dialysis patients
At the end of 2013, the number of patients undergoing dialysis numbered 314,180 in Japan. The leading reason for this amongst Japanese patients was diabetic nephropathy accounting for 43.8% of the total.
(Source: The Japanese Society for Dialysis Therapy, Basic Summary)
*5 µ-TAS (Micro Total Analysis System) technology
An analysis system on a chip microprocessed to include flow channels and reactions which then allows separation of blood cells, reagent mixing and other processes in a short space of time.
Overview of the SPOTCHEM Banalyst CysC
| | |
| --- | --- |
| Name | SPOTCHEMTM Banalyst CysC |
| Release date | Thursday 28 August 2014 |
| Specifications | |
| Sample type | Whole blood, plasma (heparin, EDTA, citric acid) |
| Meas. items | Cystatin C |
| Meas. instrument | SPOTCHEM Banalyst SI-3610 |
| Meas. principle | Latex agglutination immuno-turbimetry |
| Meas. time | Approx. 7mins, 40sec per sample |
| Min. sample vol. | 6µL |
| Tests per pack | 10 |
| Rec. supply price | JPY12,600 (For 10 tests) |
This product will be sold through ARKRAY Marketing, Inc. (ARKRAY, Inc.'s distributor in Japan).
This product is only available in Japan and is not sold in other countries.

*This product is manufactured by Rohm.