Jan 28, 2014
Supporting personalized cancer treatment

Release of a new genetic testing kit
On Tuesday 4 February, ARKRAY, Inc. will release the
i-densy Pack UGT1A1 (*28/*6)
a polymorphism detection kit for UDP glucuronyl transferase (UGT1A1). This kit is a dedicated
in vitro
reagent for use with the gene analyzer i-densy. It is used in diagnosis prior to application of cancer drugs to reduce side effects in patients and to quickly decide a course of treatment within the medical facility.
ARKRAY, Inc. (herein ARKRAY) is shortly due to release the i-densy Pack UGT1A1 (*28/*6),
ARKRAY's first in vitro diagnostic reagent for predicting patient side effects following application of cancer drugs (irinotecan hydrochloride hydrate (commercial names: Campto & Topotesin) used to fight lung and colon cancers. The system uses whole blood or purified nucleic acid samples together with the gene analyzer from ARKRAY, the i-densy IS-5320 for simple, fully-automatic gene testing.
UGT1A1 is a metabolic enzyme of ininotecan while patients with UGT1A1*28 or UGT1A1*6 polymorphisms show reduced enzyme activity and present with serious side effects such as a lower neutrophil count and diarrhea. Testing for UGT1A1*28 and UGT1A1*6 genes prior to treatment, helps in predicting the onset of symptoms and in deciding a course of treatment that best matches the patient.
ARKRAY first released the i-densy IS-5310 a tabletop, fully-automatic SNPs* analyzer globally back in 2009. This was followed by the release of a model for diagnostic use, the i-densy IS-5320 in 2012. With the release of the i-densy Pack UGT1A1 (*28/*6), ARKRAY will further advance research and development of genetic test instruments and reagents as well as supporting the personalization of cancer treatment.
*SNPs (Snips): an acronym of Single Nucleotide Polymorphisms. Small variations may exist within certain genes and when occuring in 1% or more of cases within certain groups of genetic base pair sequences, these are referred to as SNPs. By investigating SNPs relating to drug efficacy and side effects, better selection and dosing of medication can be made which brings the possibility of personalized medicine within the medical field ever closer.
Main features
•Simple & fully-automatic measurement
Until now UGT1A1 polymorphism measurement has mostly been performed using a manual method. The fully-automatic i-densy IS-5320 analyzer can be operated simply and by anyone.

•High-speed measurement
UGT1A1 measurement, which typically took half a day or more to perform can now be completed in approximately 90 minutes from sample setting to output of results.
*Please refer to the reference information regarding operation method.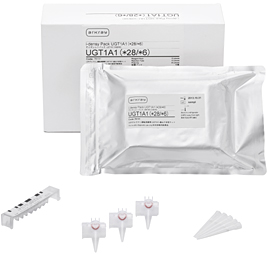 i-densy Pack UGT1A1 (*28/*6)
References
The i-densy IS-5320 is a fully-automatic analyzer for the detection of genetic base sequences relating to drug metabolism and genetic mutations connected with cancer.
The system does not require a high degree of technical skill and is very simple to use from sample preparation and gene amplification through to polymorphism determination. In addition, processes that previously took days now take as little as 80 minutes from sample collection to output of results.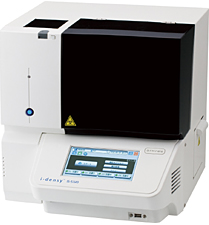 Gene analyzer i-densy IS-5320
Operation method
Gene analysis is simple: just place sample (blood or purified nucleic acid) in a reagent pack, set the pack in the analyzer and press start.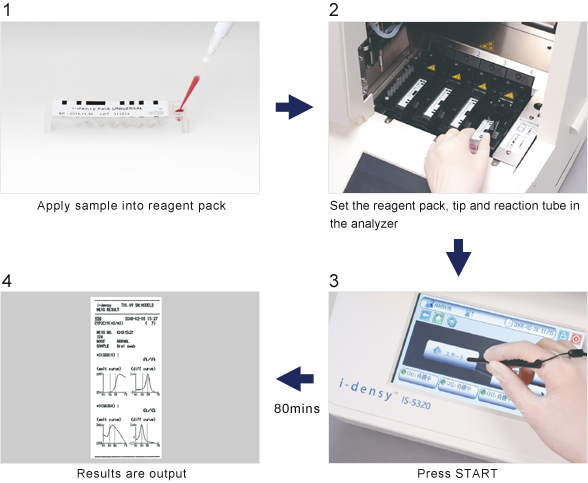 Overview of the i-densy Pack UGT1A1 (*28/*6)
Name

i-densy Pack UGT1A1 (*28/*6)

Date of release

4 February 2014

Specifications

Sample type
Whole blood, purified nucleic acid (for Japanese patients & for samples with known genetic sequences)
Meas. item
Drug metabolism enzyme gene UGT1A1 (*28/*6)
Meas. device
i-densy IS-5320
Meas. principle
PCR+Tm analysis method (QP method)
*This system uses the QP (Quenching Probe) method and technology patented by NIPPON STEEL & SUMIKIN Eco-Tech Corporation
Meas. Time
Whole blood: approx 90mins per sample
Purified nucleic acid: approx 80mins per sample (depending on meas. items)

Sales price

Suggested transfer price/10 packs (with accessories): JPY69,000 (tax not incl.)

*Dedicated check reagent i-densy Check UGT1A1 (*28/*6)
Suggested transfer price for 10 meas.: JPY22,500 (tax not incl.)

Approval number

22400AMX01409000

Product category

in vitro diagnostic reagent

Classification

Class III (item not subject to approval standard)
This product will be sold through ARKRAY Marketing, Inc. (ARKRAY, Inc.'s distributor in Japan).
This product is only available in Japan and is not sold in other countries.