Jun 11, 2013
Distribution Partnership with Sekisui Medical for a BNP Measurement Device


Improved diagnostic support for heart failure


ARKRAY, Inc. (Headquarters: Kyoto City, Kamigyo Ward) have completed an agreement with Sekisui Medical Co., Ltd. (Tokyo, Chuo Ward; President & CEO: Mr. Mutsumi Fukuda) for distribution of the BNP measurement device

RapidPIA®

and its dedicated reagent

Rapid Chip® BNP

. Sales are due to begin on Monday, 17 June to medical facilities across Japan.

ARKRAY, Inc. (herein, ARKRAY) will sell the BNP test device RapidPIA together with the dedicated reagent Rapid Chip BNP. BNP1) is a marker useful in the clinical identification of heart failure. The system is a compact and lightweight method to rapidly and easily detect this disorder.

Rates of heart failure have increased in recent years. In line with this, a marker for heart failure, BNP, is being tested at increasing frequencies. Tests using RapidPIA and Rapid Chip BNP take just 15 minutes from blood sampling and forms a simple and quantitative way to test for BNP. Results can be immediately output for patients suspected of having heart failure in the ambulance or in an outpatient setting which helps improve treatment decisions and care.

ARKRAY has been developing POCT (Point of Care Testing)2) products for many years for distribution to clinics and smaller hospitals. This business partnership will strengthen ARKRAY's product portfolio and serve to reinforce diagnosis and treatment support for lifestyle-associated disease in the clinical field.

1) BNP (Brain Natriuretic Peptide)
This is a hormone mainly secreted into the blood from the heart ventricles. Secretion increases as stress is placed on the heart resulting in a rise in BNP in the blood. This is useful as a marker of heart failure as it reflects the level of stress the heart is under.

2) POCT (Point of Care Testing)
This refers to testing performed at GP or specialist clinics/ wards and other outpatient centers near to the patient (the bedside).
Main features
•Simple operation
Rapid and quantitative measurement of BNP from whole blood or plasma without pre-treatment
•Rapid measurement
Measurement in just 15 minutes. A built-in thermal printer provides rapid reporting of results.
•Compact size and light weight
Compact (A4 footprint) and light (1.4kg) allowing installation in clinical and areas with little space.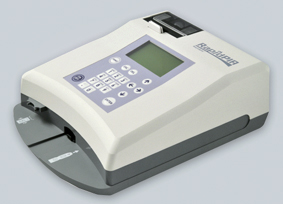 BNP Measurement Device RapidPIA®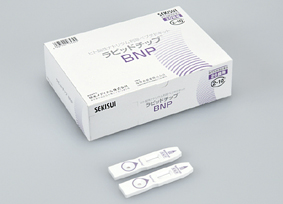 BNP rapid measurement diagnostic reagent
Rapid Chip® BNP
Measurement method
Quick and simple 3 step procedure for output of measurement results.

Overview of BNP measurement device: RapidPIA®
| | |
| --- | --- |
| Commercial name | RapidPIA® |
| Release date | Monday, 17 June 2013 |
| Specifications | |
| Measurement time | 15 minutes |
| Detection method | Reflected light intensity method |
| Display | LCD 8 lines |
| Printer | Thermal printer |
| Interface | USB, RS-232C |
| Power supply voltage | AC100V (50/60Hz) 0.4A |
| External dimensions | 205 x 275 x 96mm |
| Weight | Approx. 1.4kg |
| Operation temp./ humidity | 15-30C, 70% or less (non-condensing) |
| Sale price | JPY500,000 (requested delivery price) |
| Medical Device Applic. No. | 22B1X00008D00015 |
| Class | General medical device; Special Maintenance Control Medical Device |
Overview of BNP Rapid Measurement Diagnostic Test Rapid Chip® BNP
Commercial name

Rapid Chip® BNP

Release date

Monday, 17 June 2013

Packaging

Test device x 20
(accessory: CAL card x 1)

Storage method & shelf life

2-10C, 1 year after manufacture

Compatible sample

Plasma or whole blood with EDTA-2Na or EDTA-2K (120µL)

Certification number

221ADAMX00004000

Drug efficacy classification

In vitro diagnostic reagent
This product will be sold through ARKRAY Marketing, Inc. (ARKRAY, Inc.'s distributor in Japan). This product is only available in Japan and is not sold in other countries.