News & Topics
Mar 14, 2013
Supporting testing facilities with high core performance


Release of a Fully-Automatic Urine Analyzer with New Functionality

ARKRAY, Inc (headquarters: Kyoto City, Nakagyo Ward) is due to release a new fully-automatic urine analyzer, the

AUTION MAX AX-4060

. ARKRAY will begin taking orders for this device on 29 May with the shipments are planned to start at the end of June. The device maintains the same high level of core performance found in previous generations of the device, with the addition of new functions. It allows for the fully-automatic measurement of proteinuria and micro-albumuria useful in the early detection of Chronic Kidney Disease (CKD)*

1

and offers new answers to the needs in the testing market.

CKD is a disease characterized by a progressive decrease in kidney function and proteinuria. It may develop into kidney failure requiring the start of dialysis and well as being a comorbidity with cardio-vascular disease. It is estimated that there are a total of 13.3 million*2 adult patients in Japan (1 in 8 of the population over 20 years of age) with this and it has become a national disease problem. For the effective treatment of CKD, early detection is vital and one way to achieve this is regular urine testing (qualitative urine testing*3). Measurement of protein and micro-albumin in urine plays an important role in screening and qualitative urine testing for CKD. User needs continue to grow in this area.

The AUTION MAX AX-4060, due to go on sale from ARKRAY, is a fully-automatic urine analyzer which maintains the same high level of core performance as in previous generations of the device and meets the needs of the testing field through new function additions. Adoption of a color touch panel offers the user increased operability while useability is improved with a mode allowing measurement with just 1mL of sample. In addition the fully-automated measurement of protein and micro-albumin in urine offers qualitative test results useful in the early detection of CKD.

In 1972, ARKRAY was the first company to achieve full automation of urine testing. Since then and over the past 40 years ARKRAY has continued to offer up fully-automatic and qualitative test devices as well as test strips and test data management systems to the market. ARKRAY will continue to offer novel solutions and support testing facilties.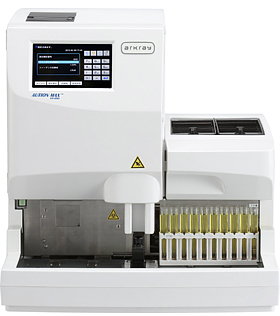 *1 Closely linked to lifestyle disorders such as hypertension, diabetes and metabolic syndrome. Persistent deteriration of kidney function caused by CKD leads to a number of increased health risks.
*2 Source: Japanese Society of Nephrology: CKD Diagnostic Guide 2012
*3 This product will go on display at the 62nd Annual Meeting of Japanese Association of Medical Technologists (held in Takamatsu City 18-19 May 2013)
This product will go on display at the 62nd Annual Meeting of Japanese Association of Medical Technologists (held in Takamatsu City 18-19 May 2013)
Main features of the AUTION MAX AX-4060
•Proteinuria and micro-albuminuria measurement for the early detection of CKD
Enabling high-precision screening for kidney disease.
•Fully-automatic and high-performance measurement with high-level of data processing
Easy measurement: just set the urine sample and press the start key to begin.
The system will store data from up to 2,700 measurements which can then be output easily as needed.
•Drop method' for high-precision measurement of low volume urine samples
Urine sample is aspired through the nozzle and a set volume of it is then applied to each test strip allowing easy measurement even with small volume samples (minimum of 2mL).
There is a micro-volume mode that lets you measure with even smaller volumes- half that of standard measurements (1mL).
•Color touch panel with great operability
The system comes with a 7 inch color operation panel and offers information in Japanese about measurement results, device status and operation method.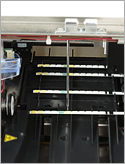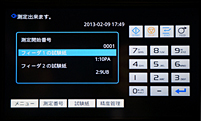 Fully-automatic urine analyzer: AUTION MAX AX-4060 Product Overview
Name

Fully-automatic Urine Analyzer AUTION MAXTM AX-4060

Release date

29 May 2013 (Wednesday) *Start of acceptance of orders

Specifications

Meas. subject
Urine
Meas. items
Glu, Pro, Bld, Bil, Uro, pH, Ket, Nit, Leu, Cre, Alb
S.G., Color tone, turbidity (instrument measurement), Calculated items: Pro/Cre ratio, Alb/Cre ratio) Simultaneous meas. of maximum of 13 items
Compatible test strips
Uriflet S-U series, AUTION Sticks 10PA
Test strip reaction time
Approx. 60 seconds
Test strip capacity
Maximum of 400 test strips (200 strips for each of 2 feeders)
Min. sample volume
2mL or more (1mL or more when used in micro-volume mode)
Processing speed
Maximum of 225 samples per hour
Data capacity
Sufficient for 2700 tests in normal measurement mode
Display
7 inch WVGA color touch panel
Outer dimensions
530mm (width) x 530mm (depth) x 550mm (height)
Weight
Approx. 40kg (Main unit and sampling unit)
Power consumption
Maximum of 150VA (or less)

Sale price

Requested delivery price: JPY7,800,000 (Tax not included)

Approval number

25B1X00001000038

Class

Class I (Standard medical device/ Special maintenance/ Control Medical Device
This product will be sold through ARKRAY Marketing, Inc. (ARKRAY, Inc.'s distributor in Japan).