Mar 07, 2013
New Release of the Self-Monitoring Blood Glucose Meter 'GLUCOCARD G Black'

-Helping diabetes care with treatment support functionality-
ARKRAY, Inc. (Headquarters: Nakagyo Ward, Kyoto) will release a new self-monitoring blood glucose meter, the
GLUCOCARD G Black
on Wednesday, 8 May. It comes equipped with specifications that patients now demand: ease-of-use with color LCD, as well as functionality allowing data analysis to support of diabetes treatment and for the review of past measurement results. In addition, the system is the first in Japan to come with wireless connectivity to a diabetes data management system
1)
and is highly effective for daily blood glucose management.
The current number of diabetes and pre-diabetes patients in Japan stands at approximately 22.1 million2) and is increasing every year. This equates to about 1 in 4 of the adult population. Diabetes also presents a risk of complications such as diabetic retinopathy, diabetic nephropathy as well as arteroschlerotic diseases. To prevent this from occuring, it is important that patients identify their own symptoms and manage their blood glucose from an early stage. In light of this, we have been seeing increasingly diverse news about self-monitoring blood glucose meters used to measure blood sugar. The simple and accurate measurement of blood glucose is closely related to the evolution of result management, the treatment of diabetes and the extensive use of education and training.
The GLUCOCARD G Black, due to go on sale from ARKRAY, incorporates a color LCD, screen displays covering measurement operation and how to deal with errors and other elements for ease-of-use. The system also contains measurement result analysis and review functions to support diabetes treatment. The GLUCOCARD G Black is the first self-monitoring blood glucose meter in Japan to come with wireless connectivity allowing the transmission of measurement data to a diabetes management system which in turn allows patients to easily manage their own blood glucose values.
In 1970, ARKRAY was the first company in the world to succeed in developing a simple measurement device for blood glucose. Over the following 40-odd years, ARKRAY has remained committed to improving patient QOL and supporting treatment and education at medical facilities through both self-monitoring blood glucose meters in the GLUCOCARD series, and diabetes management systems.
1) Diabetes Management App for Smartphone: Smart e-SMBG (iPhone)
2) MHLW (National Health and Nutrition Survey 2007)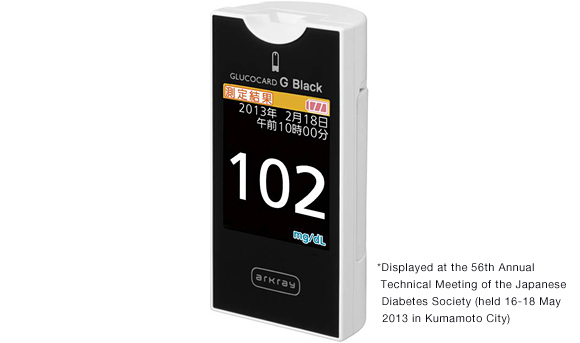 Main features of the GLUCOCARD G Black
•An easy to read color LCD
The TFT color screen allows the display of easy-to-read Japanese fonts and better legibility.
Low values are shown in blue and high values in red to alert the patient to changes in their blood glucose.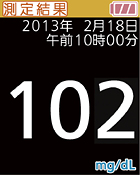 Results display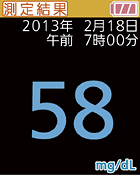 Low value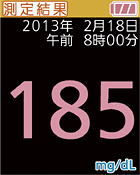 High value
•Screen explanations of operation method and how to deal with errors
The operation is explained with illustrations to support patients in use of the system. The screen also displays information about how to handle errors such as when there is insufficient blood volume.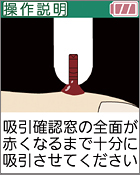 Operation method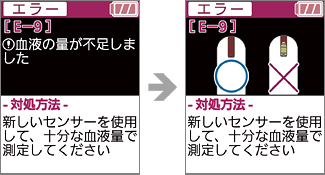 Display of errors
•Improved ease-of-use through treatment support functionality
*Interpretation of measurement results
You can search through measurement results to easily understand the timing and frequency of low and high blood glucose values. You can also plot your measurement results in a graph and calculate value averages to allow visual confirmation of measurement values.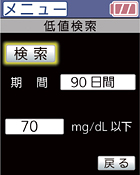 Search for meas. results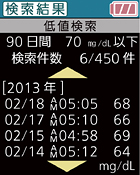 Search for timing/ frequency
of high and low blood
glucose values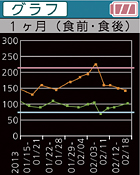 Plotting of meas. results
*Looking back at measurement results
You can input the causes of high or low blood glucose values, helping you review your measurement results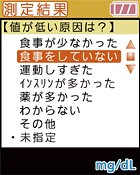 Input of cause of high/
low blood glucose values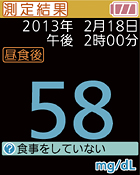 Looking back at meas. results
*More information about the measurement value
You can attach information to your measurement result such as how long after eating you performed the measurement as well as the timing (before/ after meals, before bed, during the night).
*Measurement timing alerts
You can pre-set up to 7 different alarms to alert you to times for measurement. These can be set daily or on certain days of the week.
*Sending of measurement data via wireless Bluetooth connections
Through Bluetooth Ver.4.0, you can connect to the diabetes management smartphone app 'Smart e-SMBG. (Currently only available on iPhone)
Data transmission to diabetes management sites*) is also possible for easier management of your blood glucose values. This site enables the patient to set their own values and to send messages to preset email addresses when the values are too high or too low.
*Diabetes management site: Diabetes Care Service e-SMBG (http://e-smbg.net/)
This site allows diabetics to manage their daily blood glucose values on the internet. There is no sign-up or monthly fee for this service.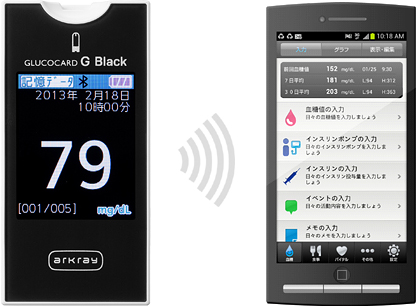 •Custom screen settings
As with your mobile phone or smartphone, you can can customize your screen settings.
References:
What you can do with Smart e-SMBG, a diabetes app for your smartphone
Smart e-SMBG is geared toward increased visualization of your blood glucose results and is a service that allows management of diabetes data using your smartphone. By inputting your blood glucose values, HbA1c values, weight, number of steps walked, meal photographs and other data, you can record your data and use it to plot easy-to-follow graphs. There is no sign-up or monthly fee for this service.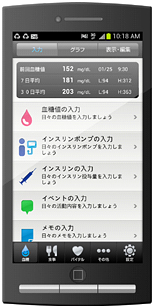 Main menu screen
Main features
•List display using daily graphs
Plotting the results onto a single screen showing your blood glucose values, meal information and exercise, gives you an intuitive guide to your daily activities.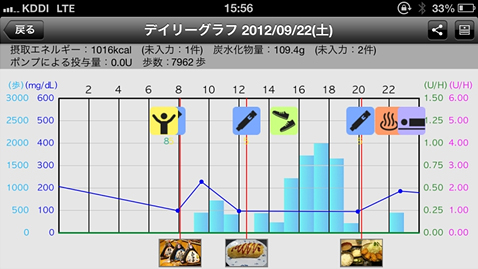 Diabetes management: daily graph (blood glucose values, steps walked, meal photos, events)
•Simple registration with your smartphone
*Blood sugar
Simple input of blood glucose measurement values
*Meal info
Take a photo of your meal with your smartphone camera. Using the menu search, you can log the calories, carbohydrates and salt. (Approx. 500 types)
*Exercise
(no.of steps)
The smartphone widget can automatically calculate and log the number of steps you have taken.
ARKRAY's goal is to maximize QOL and diabetes management through the full use of diabetes test results for both the patient and medical professionals. ARKRAY's message is to really look at your blood glucose values from diabetes products.
Self-Monitoring of Blood Glucose Meter: GLUCOCARD G Black Overview
| | |
| --- | --- |
| Name | Self-Monitoring Glucose Meter GLUCOCARD G Black |
| Release date | Wednesday 8 May, 2013 |
| Specifications | |
| Meas. items | Glucose in blood |
| Meas. range | 10~600mg/dL |
| Min. sample vol. | 0.6µL (Whole blood) |
| Sensors used | Self-Monitoring Glucose Kit G-Sensor |
| Meas. time | 5.5 seconds from detection of blood application |
| Memory capacity | 450 measurements |
| External output | 1 x UART comm. Terminal, Macro USB (B) 1 x connector, Bluetooth Low Energy (Bluetooth Ver.4.0) |
| Temp. correction | Self correction using internal temperature sensor |
| Usage environment | Temperature: 10-40C, Humidity: 20-80% RH (No condensation) |
| Outer dimensions | 41mm (W) x 84mm (L) x 26mm (H) |
| Weight | 75g |
| Battery | 2 x Type 4 Alkali Dry battery |
| Battery life | Approx. 1,000 measurements or more (this figure may be lower depending on the usage method) |
| Power consumption | 0.25w |
| Accessories | Operating Manual (x1), Package Insert (x1), Warranty Sheet/ Warranty Registration Card (x1), Personal Information Protection Sticker, Storage Case (x1), Type 4 Alkali Battery (x2 and installed) |
| Sale price | Target delivery price: JPY9,000 (Tax not included) |
| Approval number | 22500BZX00085000 |
| Class | Class III (High Maintenance Medical Device) / Special Maintenance Control Medical Device) |
This product will be sold through ARKRAY Marketing, Inc. (ARKRAY, Inc.'s distributor in Japan). This product is only available in Japan and is not sold in other countries.