Apr 18, 2012
10,000 cheer wristbands distributed to strengthen bond between Minoru Iwata and fans
Design finalized for IWATA Cheer wristband
ARKRAY, Inc. (Headquarters: Kyoto City, Nakagyo-ward), a manufacturer of sample test devices and
in vitro
diagnostic reagents will distribute 10,000 cheer wristbands as part of IWATA PROJECT 21, a support project for diabetic patients launched together with
Mr. Minoru Iwata, a baseball player with the Hanshin Tigers
. The design was decide via a vote performed recently.
From 2009, ARKRAY has been supporting and handling communications for Mr. Iwata in supporting children with Type-1 diabetes. IWATA PROJECT 21 was launched in May 2011 under Minoru Iwata's slogan 'don't give up on your dreams', and with the goal of drawing people closer together. In 2012, a new sub-project was launched 'bringing 10,000 people together' in which cheer wristbands are distributed to 10,000 people. A vote was held between 16 January and 16 March to decide on a final design for the wristband.
These cheer wristbands, which Minoru Iwata himself will wear, will be distributed to 10,000 people only. These cheer wristbands are a sign of the wearer's commitment to never give up on their dreams. In exchange, we are asking for dream statements. By doing this, Iwata and the 10,000 people receiving the bracelets will share a common bond and will be more able to realize their dreams.
We are accepting applications for the Cheer wristbands from today. In addition, we have set up an IWATA PROJECT 21 page on Facebook, upon which we, and Iwata himself will be writing updates.
Through its participation in IWATA PROJECT 21, ARKRAY supports Iwata and people with diabetes.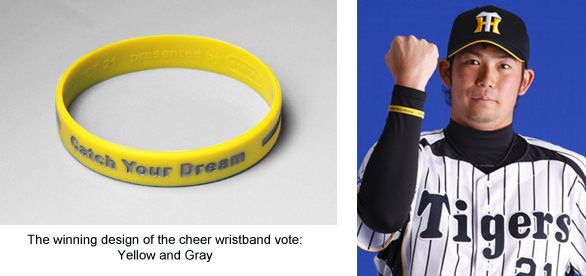 Distribution of the wristbands
Application period: 19 April 2012 (Thursday)- *Until stock runs out
Distribution (application) method:
1. At summer camps for kids with diabetes and at diabetes related symposia
At venues, for people that fill out the dream statement
2. Official IWATA PROJECT 21 site (ARKRAY Iwata Support Site)
https://www.arkray.co.jp/iwata21
Fill out the specified fields and the dream statement (limited to once per person)
3. IWATA PROJECT 21 Facebook page http://www.facebook.com/iwata21 *Open from today
For sending information about the project (Minoru Iwata also includes entries himself.)
About the cheer wristband vote
Minoru Iwata selected a shortlist of 3 designs which were then voted on.
Voting period: 16 January (Monday) - 16 March 2012 (Friday)
Voting method: votes received through the official IWATA PROJECT 21 site (Voting now closed)


The 3 contenders for the Cheer wristband design