Apr 16, 2012
The smallest meter in its class just got easier to use
Even better performance for ARKRAY's card-sized blood lactate measurement device
ARKRAY, Inc. (Headquarters: Kyoto City, Nakagyo-ward), a manufacturer of sample test devices and
in vitro
diagnostic reagents is set to launch its new and simple blood lactate meter, the
Lactate Pro™ 2 LT-1730
on 17 April. In its card size form, it is small enough to allow measurement anywhere and boasts increased performance for the rapid measurement of lactate.
Lactate in blood is an essential marker in the fields of sports physiology, sports science and training. The simple and rapid testing of lactate is a big benefit to both research and medicine.
To answer the needs of the market, ARKRAY released the Lactate ProTM back in February 1997, which marked a significant reduction in size for blood lactate at the time. This new card sized device enabled simple measurement of lactate anywhere and helped to support clinical testing across many different settings.
ARKRAY is now set to release the simple blood lactate meter, the Lactate Pro™ 2 LT-1730 together with its compatible reagent/ measurement electrode, the Lactate Pro™ 2 Sensor. The measurement time has been cut by 75%* to just 15 seconds; the minimum sample volume reduced by over 90%* to just 0.3µL and the basic performance of the device improved significantly. The hassle associated with correction of reagent lots has been eliminated which also helps to reduce the risk from correction errors.
ARKRAY will continue to answer diverse testing needs in the market.
*In comparison to existing ARKRAY products: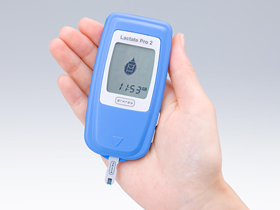 Lactate Pro™ 2 LT-1730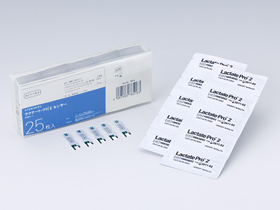 Lactate Pro™ 2 Sensor
Main features of the Lactate Pro™ 2
●A simple blood lactate device, the smallest of its kind
Palm-sized for measurement in any environment: now you can measure lactate rapidly anywhere
●Minimum sample size: just 0.3µL
Development of a new reagent sensor: measurement possible with just 1/10th the volume previously needed
●Measurement time: 15 secs
On site measurement is possible using finger-stick blood: results are shown in just 15 seconds from application of blood to the sensor- one quarter the time needed for measurement with previous devices.
●No correction needed
No more hassle from correction of sensor lots (insertion of sensor chips before measurement): this also helps to reduce the risk from correction errors.
About lactate
Blood lactate is often used in the scientific training for endurance sports such as soccer, swimming and athletics. As the intensity of the exercise increases, so too does the concentration of lactate in the blood. By measuring this change, training can be configured to delay sharp rises in blood lactate.
Product overview
| | |
| --- | --- |
| 1. Name | Lactate Analyzer Lactate Pro™ 2 LT-1730 |
| 2. Release date | 17 April 2012 (Tues.) |
| 3. Specifications | |
|   Sample type | Whole blood |
|   Meas. items | Lactate in blood |
| Meas. principle | LOD enzyme electrode method |
| Meas. range | 0.5-25.0mmol/L (5-225mg/dL) |
| Processing speed | 15 sec/ sample |
| Min. sample vol. | 0.3uL |
| Compatible reagents | Lactate Pro™ 2 Sensor (Electrode for measuring lactate in blood) |
| Data memory | 330 measurements |
| Ext. output function | Yes |
| Correction method | No correction |
| Temp. correction | Auto-correction using internal temperature sensor |
| Meas. conditions | Temp: 5-40 C, Humidity 20-80% RH (No condensation) |
| Power source | 3V lithium battery/ CR2032 X1 |
| Outer dimensions | 50mm(W) X 12mm(D) X 100mm(H) |
| Weight | Approx. 45g (Incl. batteries) |
This product will go on sale via ARKRAY Marketing, Inc. ARKRAY Marketing Inc. is responsible for the sale of ARKRAY products in Japan.
Product overview