Mar 08, 2012
Stronger total support for rapid clinical testing
Distribution deal with Alere Medical for Blood Gas Analyzer
ARKRAY, Inc. (Headquarters: Kyoto City, Kamigyo Ward; herein 'ARKRAY') a manufacturer of clinical test devices and in vitro diagnostic reagents has entered into an agreement with Alere Medical (Headquarters: Tokyo, Shinjuku Ward, CEO: Kiyonori Karasawa; herein 'Alere Medical') for the distribution of the universal blood gas test device, the
Epoc Blood Gas Analyzer
. Sales to medical institutions throughout Japan shall begin on 14 March through ARKRAY Marketing, Inc. (Headquarters: Tokyo, Shinjuku Ward). This deal will strengthen sales of compact blood gas instruments in Japan by leveraging ARKRAY's sales and service network to clinics and hospitals together with Alere Group's and Alere Medical's experience as a global leader in the POCT market. In addition ARKRAY will further strengthen its product lineup for POCT enabling it to offer a wider range of solutions to customers.
POCT (Point Of Care Testing) performed at emergency rooms, ICUs and other emergent settings requires highly reliable measurement results, simple operation, information sharing and consistently stable measurement.
The Epoc Blood Gas Analyzer, going on sale through ARKRAY, is a portable device with the same level of measurement precision and the same measurement times you would expect with a larger installed blood gas analyzer. It offers a wide range of functions vital for POCT such as simultaneous measurement of up to 9 items, simple operation with measurement cards and network functionality that links in with hospital systems. It offers the portability needed to support acute care that only comes with such a compact size.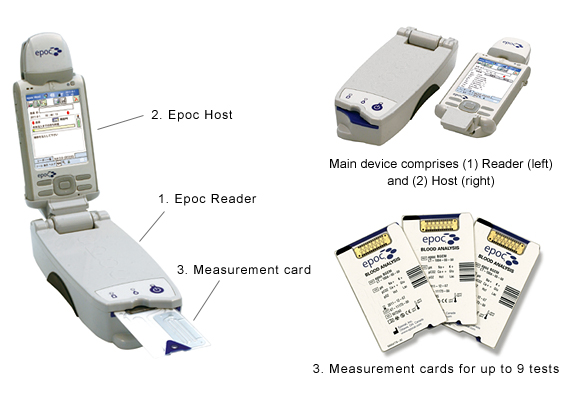 Main features of the Epoc Blood Gas Analyzer
♦ A compact and portable blood gas analyzer
Easy to carry and capable of rapid testing at the bedside
♦ Simple operation
Just insert measurement card and apply sample: easy-to-use, reducing operator to operator variance.
♦ Accurate and rapid testing
The Epoch shows great correlation with larger installed blood gas analyzers and allows for accurate testing. Rapid measurement results are available in just 3 minutes from startup
♦ Maximum of 9 simultaneous measurements with a single measurement card
Simultaneous measurement can be performed for up to 9 items including pH, pCO2 (partial CO2 pressure), pO2 (partial O2 pressure), Glu (glucose), Lac (lactate) and electrolytes. Measurement cards may be stored at 15-30C meaning that they can be used immediately in the event of an emergency.
♦ Maintenance free
Electrolytes, calibration solution and tubing are all contained inside the measurement card eliminating the need for regular maintenance associated with larger installed blood gas analyzers
♦ xpandable networking
With its wireless functionality, measurement data can be sent from the Epoch Host to information systems in the hospital meaning rapid test reporting in real time.
Product overview
| | |
| --- | --- |
| 1. Name | Universal blood gas analyzer (Epoc Blood Gas Analyzer) |
| 2. Release date | 14 March 2012 (Wed) |
| 3. Specifications | |
| 1. Epoch reader | |
| Sensor | Electrical current, potential difference, conductivity |
| Meas. items | H, pCO2, pO2, Na+, K+, Ca++, Hct, Glu, Lac |
| Min sample vol. | Approx. 100µL |
| Operating temp | 15-30C |
| Power supply | AC/DC Adapter (AC input 100-240V) |
| Battery | Lithium ion battery (Approx. 50 tests with battery power) |
| Outer dimensions | 218mm x 90mm x 52mm |
| Weight | Approx. 420g |
| Communication | Bluetooth v2.0 |
| 2. Epoch host | |
| Display | 3.5 inch color TFT LCD |
| Input | Touch-screen |
| Power supply | Lithium ion battery |
| Outer dimensions | 200mm x 78mm x 39mm |
| Weight | Approx. 180g |
| Communication | Bluetooth v2.0 Wi-Fi |
| 4. Medical device approval number | 12B1X10004000008 |
This product (device set, measurement cards and other consumables) is available through ARKRAY Marketing, Inc. ARKRAY Marketing, Inc. is responsible for ARKRAY sales within the Japanese market.
About Alere Medical
Alere Group (previously Inverness Medical Innovations) is a leading group of companies in the global POCT market and established a presence in Japan in July 2005. In line with rebranding the company as the Alere Group in 2010, Inverness Medical Japan changed its name to Alere Medical in 1 April 2011.
Alere provides high quality and innovative products to the POCT market.