Jan 24, 2012
Accurate enzymatic-method testing of a key kidney function
New test strips for the measurement of creatinine in blood
ARKRAY, Inc., (Nakagyo Ward, Kyoto), a manufacturer of clinical testing devices and
in vitro
diagnostics, is announcing the January 27 release of 8 types of test strip, including
SPOTCHEM™ II Creatinine2
and
SPOTCHEM™ D CRE
, for the testing of creatinine (Cre), a key measurement item for kidney disease (renal insufficiency). The test strips incorporate an accurate enzymatic method and are targeted at medical institutions in great need of immediate testing.
In recent years, patients in need of dialysis suffering from kidney failure have been increasing by about 40,000 per year.* Preventive measures are urgently needed, most of all, for testing of blood creatinine as an indicator of kidney disease. This needs to be performed immediately so more accurate testing is required.
ARKRAY, Inc. is releasing test strips for creatinine which uses an enzymatic method making accurate blood creatinine measurement possible. Testing can be performed in outpatient settings using a small and easy-to-use analyzer.
Two types of test strip are to be released; a single strip for the measurement of creatinine only and a panel strip for multiple items to meet the needs of a wide range of users. Two types of test strip from the SPOTCHEM™ II series will be released for the clinical dry-chemistry analyzer SPOTCHEM™ EZ SP-4430, and 6 combinations for the SPOTCHEM™ D-Concept (SPOTCHEM™ D series).
ARKRAY has released test strips for the SPOTCHEM II and SPOTCHEM D for the testing of various measurement items. Test results can be obtained immediately and easily by either series at the hospital, enabling appropriate treatment without delay.
ARKRAY shall continue to build its product line so that it can continue to answer the needs of the medical field.
This is sold only in Japan.
*Source: The Japanese Society for Dialysis: An overview of regular dialysis treatment in Japan as of Dec. 31, 2010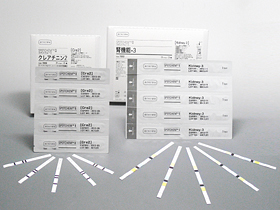 SPOTCHEM II Creatinine2 ⁄ Kidney-3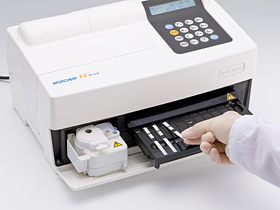 Testing with the SPOTCHEM EZ SP-4430
Product outline
♦ Name SPOTCHEM™ II Creatinine2
♦ Specifications
| | |
| --- | --- |
| Measurement device | SPOTCHEM EZ SP-4430 |
| Measurement sample | Blood serum, blood plasma |
| Measurement item | Creatinine (Cre) |
| Measurement principle | Enzymatic method |
| Sample volume | 6 µL + 38 µL per test |
| Processing speed | Test time approx. 6 min (testing one single test strip) |
| Packing unit | 25 strips |
*Also released: Panel test strip SPOTCHEM™ II Kidney-3
♦ Name SPOTCHEM™ D CRE2
♦ Specifications
| | |
| --- | --- |
| Measurement device | SPOTCHEM D-Concept (D-02, D-03) |
| Measurement sample | Blood serum, blood plasma |
| Measurement item | Creatinine (Cre) |
| Measurement principle | Enzymatic method |
| Sample volume | 6 µL + 30 µL per test |
| Processing speed | Test time approx. 6 min (when testing one single test strip) |
| Packing unit | 25 strips |
*Also released: SPOTCHEM™ D Kidney2, SPOTCHEM™ D Metabolic2, SPOTCHEM™ D Stat2, SPOTCHEM™ D Total-A2, SPOTCHEM™ D Panel-V2