News & Topics
Oct 05, 2007
The 14th Japan-Korea Symposium on Diabetes Mellitus -Diabetes and Metabolic Syndrome in Asia-
ARKRAY participated in the 14th Japan-Korea Symposium on Diabetes Mellitus-Diabetes and Metabolic Syndrome in Asia. This biannual symposium is held, in turn, in Japan and Korea and was held on October 5 and 6, 2007 at the Kyoto International Conference Center in Japan.
Diabetes was recognized in the UN Resolution on Diabetes on December 20, 2006 as a globally threatening disease similar to AIDS. The resolution has led to the designation of November 14 as the United Nations World Diabetes Day in order to increase public awareness and provide education on the prevention and treatment of the disease. The symposium had a goal of joining the global implementation of the UN resolution by strengthening the relationship between medical institutions, educational institutions and various media organizations.

In the symposium, ARKRAY provided visitors with gift bags and operated an exhibition stand.
At our exhibition stand, we highlighted X-METER, our high-spec SMBG system that was launched overseas in 2005. We are proud of its outstanding features and sophisticated design.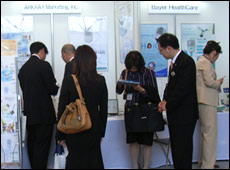 X-meter specifications
Quick results:
Just 5 seconds
small sample volume:
0.3 uL
Slim Design:
Thickness of 12 mm
Automatic Calibration
Storage of 360 test results
Data management
(With the MEQNETSMBG Viewer)
We prepared panels in order to introduce ourselves especially to the researchers from Korea. They presented ARKRAY's total diabetes care products and services, and its status as a reliable SMBG manufacturer with a long history. For overseas visitors' convenience, panels and company introduction sheets had Japanese, English and Korean explanations and both Japanese and Korean staff from our Seoul office was available at the stand.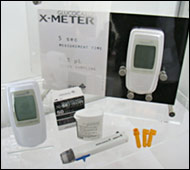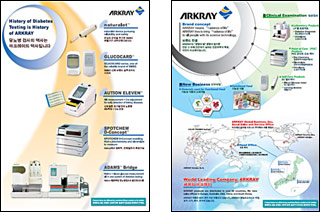 click to see larger versions

Left Photo:
ARKRAY's development history of blood glucose and other clinical analyzers.
Right Photo:
ARKRAY brand concept, products and services, and overseas network.
The number of participants was originally announced as 350, but we actually had more than 400 visitors, including many well-known researchers both in Japan and Korea.
We welcomed researchers from Japan, Korea and other Asian countries. We would like to express our sincere appreciation to every visitor to our stand for taking their precious time to come and visit us.