Fully automated gene analyzeri-densyTM IS-5320
80 min from start to result output and using purified nucleic acid/nasal swab/saliva.
Measurement of up to 3 SNPs with one cartridge.
All-in-one solution
Pre-treatment
Amplification(PCR)
Detection(Tm Analysis method)
Specifications
Fully automated measurement
All you need to do is set the reagent pack with sample and press the start button.
Pre-treatment, Amplification (PCR), and Tm analysis are all automated.
(Note: pre-treatment for purified nucleic acids is required)
Measuring object
Nasal swab: 28μl
Purified nucleic acids: 4μl
Saliva: 100μl
Processing speed (dependent on measurement items.)
Purified nucleic acids
65 min / sample, 75 min / 4 samples
Maximum sample load
4 samples at a time. Additional measurement during operation also available.
Maximum number of measurable mutations
Measurement of up to 3 SNPs at a time is possible using one cartridge.
Insertions and deletions can also be measured.
Compact design
410 (W) ×450 (D) ×415 (H) , 27kg
*The IS-5320 is a medical equipment, but the combined use of the device and reagents is still for research use.
Evaluation Report
i-densy Pack Universal SARS-Cov-2 Detection System
PCR Reference Test
Total
Positive(%)
Negative(%)
positive
30(100%)
0(100%)
30
Negative
0(100%)
30(100%)
30
Total
30
30
60
%(95% Confidence Interval)
Sensitivity
100%(88.43 to 100)
Specificity
100%(88.43 to 100)
Positive Predictive Value
100%
Negative Predictive Value
100%
Results evaluated by Research Institute for Tropical Medicine.
Easy operation, easy analysis
Pretreatment of samples
Perform steps 1 and 2 in a safety cabinet in a BSL2 laboratory.
1.Put 28 μL of the biological sample and 2 μL of ProK into the screw cap tube and mix them.
2.Tightly close the cap and stir the mixture for about 10 seconds.
This operation can be performed by pipetting.
Make sure to pipette well so that the sample and ProK are fully mixed.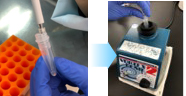 3.After spinning it down for about 5 seconds, leave it to stand for 10 minutes at room temperature.
Room temperature:15°C to 30°C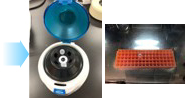 4.Incubate it at a temperature of 95 °C for 15minutes.
5. Caution
Do not spin down the the heated tube.
This is because the water droplets on the inside of the screw cap may not have been heated sufficiently.
Dispense 10 μL of the heated sample into a reaction tube.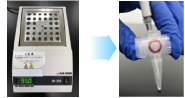 ---
Measurement process
For gene analysis, all you need to do is to set the reagent pack (with sample applied) and to press the start button.

1.Apply sample to reagent pack
2.Put the reagent pack, tip and reaction tube in place

3.Press the start button
4.Get the printout of measurement result within 65 to 90 min